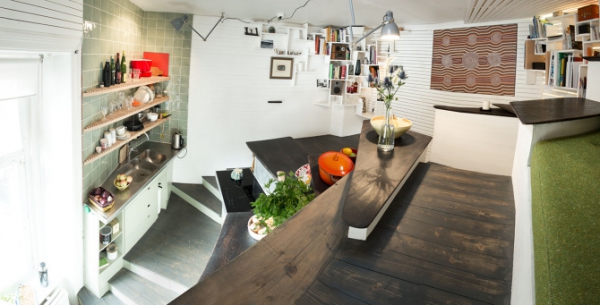 In the heart of Gothenburg, Sweden you can find an apartment where space optimization has been turned into a big thing. This 17m2 by 3.6m apartment was the brain wave of designer Torsten Ottesjö, who along with Lars Isestig created a multi levelled and interesting space that has everything any modern apartment needs. The efficient use of all available parts of this small apartment means that the space optimization really works here; sharing the light from the single window became a challenge for the design duo.
Inside this apartment you will find an intricate design which houses the kitchen, office, bedroom, bathroom, living room and dining area; there are 2 staircases providing even more interest and some very handy space saving solutions. The apartment is furnished sparsely but with as many angles and points of interest in the design it does not need many other embellishments. White wooden walls and stained dark wooden floors complement the artwork you can from many angles. The use of simple materials accentuate this apartment and highlight the space optimization to it's best.
The living area doubles as a guest bedroom which is useful if you have friends over. The bathroom is tiled and also contains a shower. This pretty but small room is extremely practical much like the rest of the apartment.
Photos: David Relan
Тext is copyright to ©Adorable Home – interior design and decorating ideas