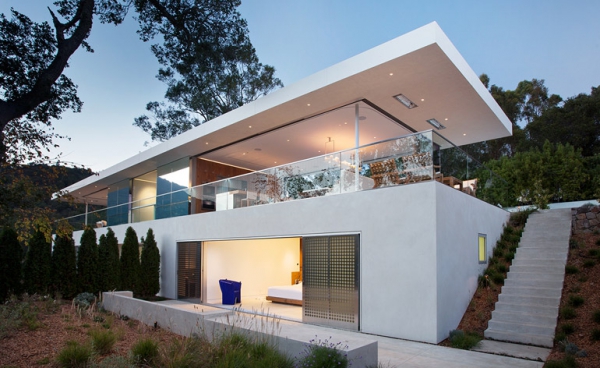 Have you ever caught yourself doing some California dreaming? Don't worry; many of us have. It is one of the most well-known areas in the world and rightfully so! With gorgeous homes spotlighting superb residential design like today's feature, who could blame California for its popularity? This home, called the Turner Residence, is located in the rural area of Larkspur, San Francisco. Mark Jensen of the Jensen Architect team executed the vision that his client had, which was to merge a more modern design with the naturally sumptuous environment surrounding it.
The residential design of this home features a more open look compared to its common counterparts. Because it is located near the mountains, there is still a sense of privacy due to the fact that there are hardly any neighbors around to worry about. Jensen promotes the topsy-turvy effect of room planning with having the living, dining and kitchen area at the top of this three level home. Doing this allows the clients to always have access to the breath-taking views of mountain scenery at their disposal, as well as their guests. The remaining two floors contain the bathrooms and bedrooms, while the main bedroom has the added feature of instantly walking out onto the abundant promenade to breath in the fresh air every morning. While the contemporary style allows for it to camouflage itself into the environment, Jensen also made sure to incorporate some eco-friendly elements; such as the concrete floors that can save a ton on energy and the holed metal screens featured in the bathroom that encourages natural light to permeate the home wherever needed.
This residential design gives a whole new meaning to the common phrase "Run for the hills!" With a lovely dwelling like this one, you probably won't be running back!