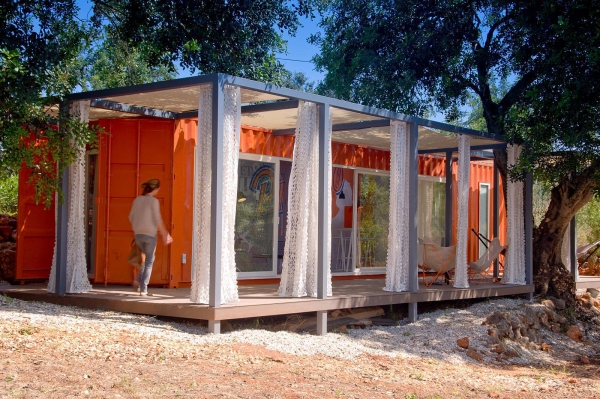 The rigid volume of a shipping container is artfully exploded into a fluid, permeable cabin that freely engages with the spirit and sounds of the Algarve landscape. Portuguese designers Studio Arte offer reverence to the sea, drawing on the forms, palette and textures that float upon it, with this container home.
A generous deck houses the container and offers ample space for lounging and outdoor activities; large glazed sliding panels are carved into the face of the container home to create an interface between the two. The deck is enveloped in sailcloth curtains that create a movable boundary that shifts with variation in privacy and use. Creating shade where and when required these curtains are not just an innovative solution to unwanted solar gain; they also look stunning against the different moods of the Sun and sea.
The interior is realized in an open plan layout that relies on smart, space-efficient furniture and simple, clean furnishings to create an uncluttered space rooted in modern sensibilities. A vivid graphic wall along the rear face provides a backdrop to the entire arrangement- container, deck and its outermost perimeters.
An open-air stage to the lives and experiences of its occupants, this container home introduces a conversation between cabin and context. Through responsive design and sleek lines, the architects create a dynamic weekend home that offers delight in nature, and respite from it when needed.