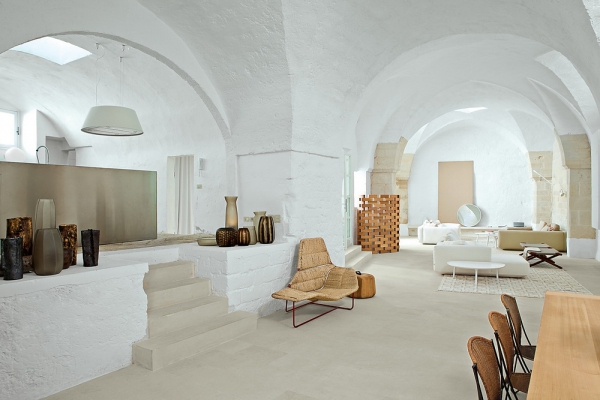 This renovated home can be found in Salento, Italy. It is the end result of design and complete dedication between Ludovica and Roberto. These Italian designers, with their combined efforts, breathed life into this home while maintaining its structure and energy. It once was a former 17th century old mill, but with some ingenuity and design genius, this mill went from your standard old house renovation to a complete overall, resulting in one beautiful home.
You'll be in awe of how pure the entire house feels. We are talking of course about the solid, almost shocking white that covers the entire interior of the home. With the old house renovation that took place, they made sure to cover any and all remnants of old paint or stone that may have been left from the mill. It is absolutely lovely however, and somehow requires little to no wall decorations (not that you'd want to put a whole in that white paint).
The furniture and the decor of this home has a real rustic feel to it. Really the whole home does; that is one thing with the old house renovation that stuck. This is genius though, it is an element that keeps the spirit of the original home alive – decorations are pretty neat that way, aren't they? The master bedroom is the only room that has more of a modern feel to it; this could be the huge set up of mirrors, which are of course totally awesome.
The ceilings of this home are totally worth mentioning. The way that they swoop and flow throughout the home creates a total ease and you move from room to room. It almost feels like you're standing or sitting in a wonderfully white fortress.