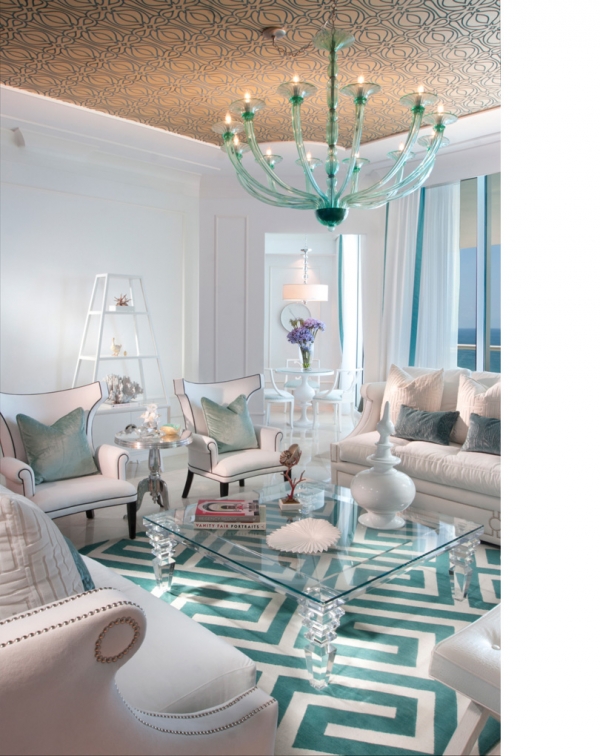 DKOR Interiors designed this gorgeous interior in the incredibly glamorous Hollywood Regency style.
The living room is effervescent with its amazing teal and white color palette. The wallpaper on the ceiling is a phenomenal touch, bringing a bit of gold to the room. We are in love with the amazing area rug. Fabulous white furniture fills the space, adding even more interest through its wonderful details. The glass table is delightful, bringing additional glamour to the living room.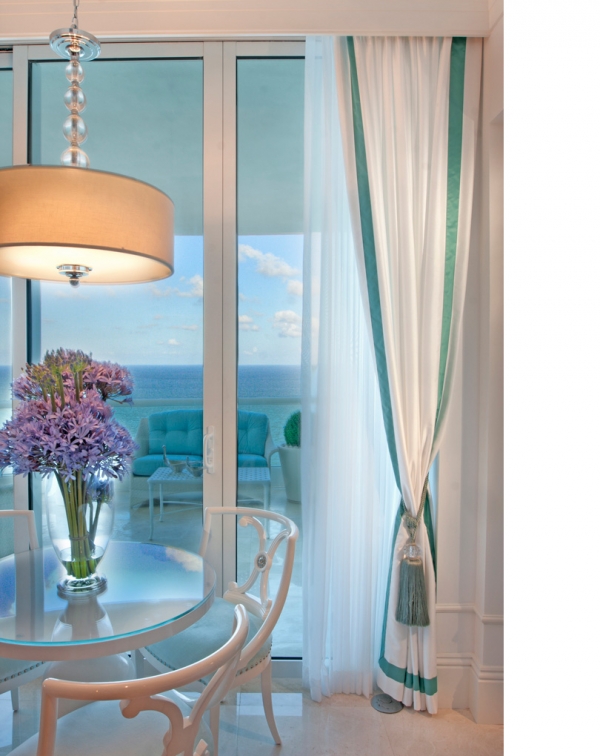 A bit of variety is added to the color palette in this gorgeous interior through lovely purple flowers.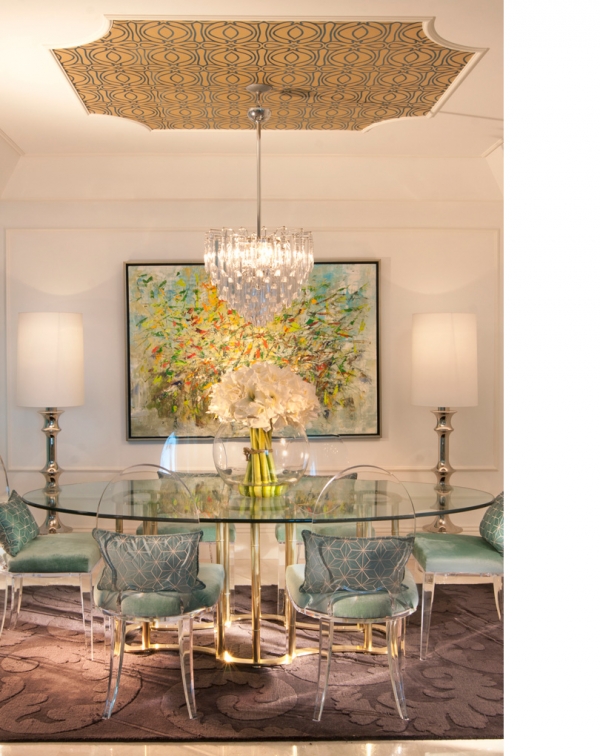 The glamour in this room is out of this world. The brown area rug is a surprising and delightful touch, anchoring the design. A glass table is surrounded by outstanding chairs with plush cushions. On the table, an elegant vase, full of white flowers, sits directly beneath the ornate chandelier. The ceiling detail, also seen in the living room, continues, and beautiful lamps and a magnificent piece of art, elevate this gorgeous interior.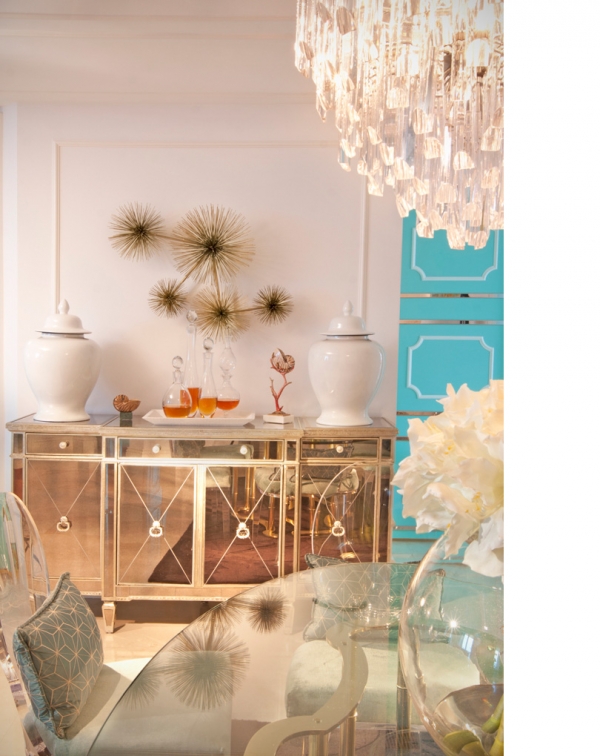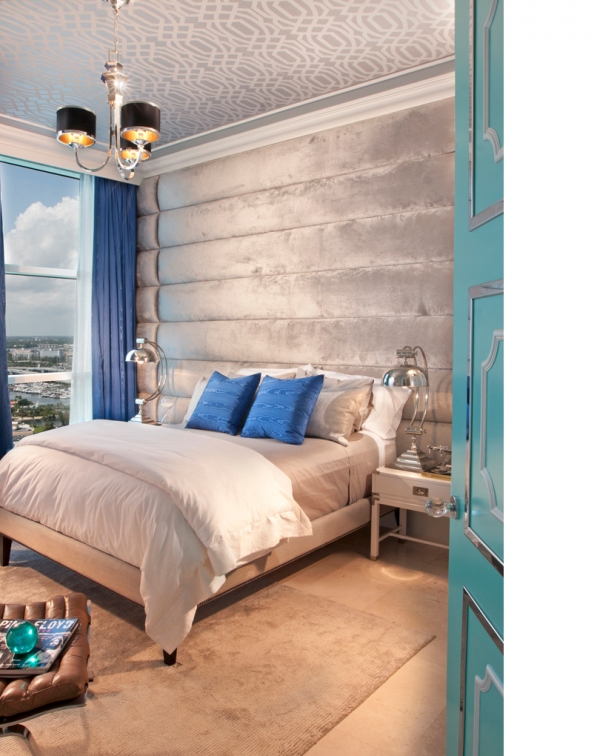 Wow! Just wow. We love the deep blue and silver in the bedroom. The wall and ceiling are luxurious and interesting. The wall adds a wondrous warmth to the room through its delightful texture. The large windows are positively sublime, allowing natural light into the space. The bed looks cozy and inviting, with its light colors and beautiful blue accent pillows. Next to the bed, brilliant silver lamps, sit on sleek bedside tables. The area rug and the flooring are a light brown color, bringing a bit more warmth to this amazing design.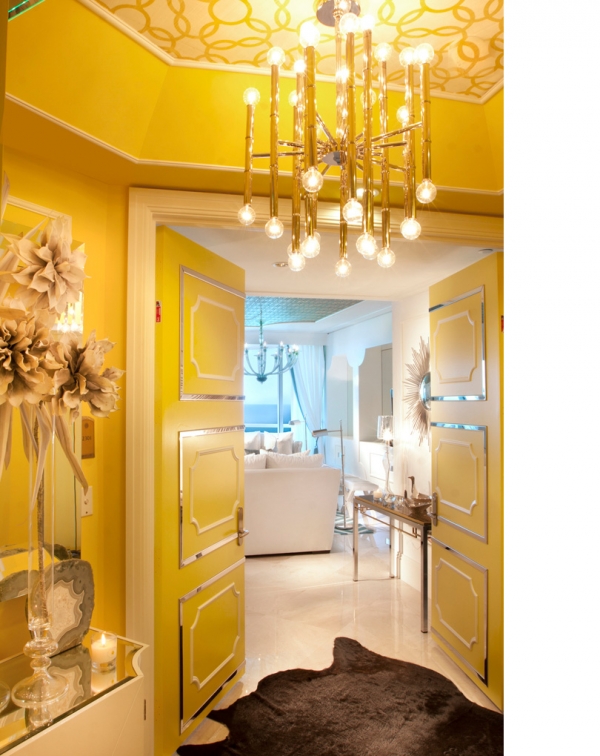 We are obsessed with the entrance into this gorgeous interior. The bright yellow color, the design on the doors, the chandelier, flowers, and candle, create a breathtaking space.