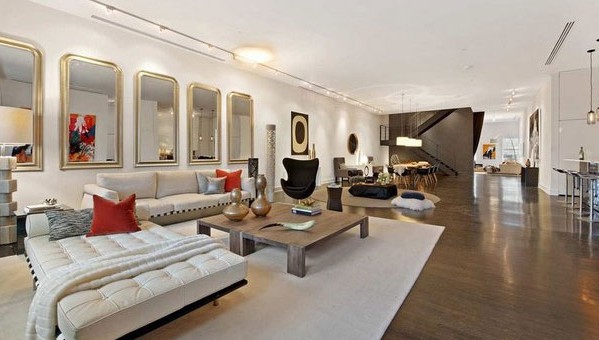 We simply love this penthouse! As one would expect, and just inherently know, New York City is packed full of endless gorgeous penthouses and homes, some of which you can't even fathom how luxurious they really are. Soho especially is one of the best neighborhoods to find such places, and this home in particular is stunning. At 7,000 square feet, this penthouse sprawls and flows through an indoor and outdoor design, providing extreme comfort, impeccable views of the city, all the while looking beautiful in every aspect of its interior design.
We love how effortlessly contemporary this home really is. For one, the color palette is a refreshing use of the monochrome look. Rather than sticking with blacks and whites, they have deviated slightly in using grays with green undertones, golds, and bronzed shades of browns and grays. The accents of black really does tie everything together very nicely though. It is almost an anti-monochrome; it creates a rather dramatic look, but we can't get over how glamorous it is. This is perhaps the direction the monochrome look is now taking, and we love it.
The penthouse really does just flow in and out of itself as you go from room to room. It is utterly spacious and so cozy at the same time. As you step out onto the patio you'll find that it is still just as chic as it was on the inside. It is the perfect spot to relax and enjoy the views of New York.
Anyone could make their home look like this penthouse with a little bit of effort.