The need of the hour is eco-friendly housing. Let's examine one such construction. The historic origins and the main architects paved the way for this stunning eco focussed house design. The Caterpillar House is a modern ecological farmhouse located on the Central coast of California in the 20,000 acres Santa Lucia Preserve outside of Carmel. Winner of numerous design awards since its inception in 2011, it is also the first LEED Platinum custom home on the central Californian coast.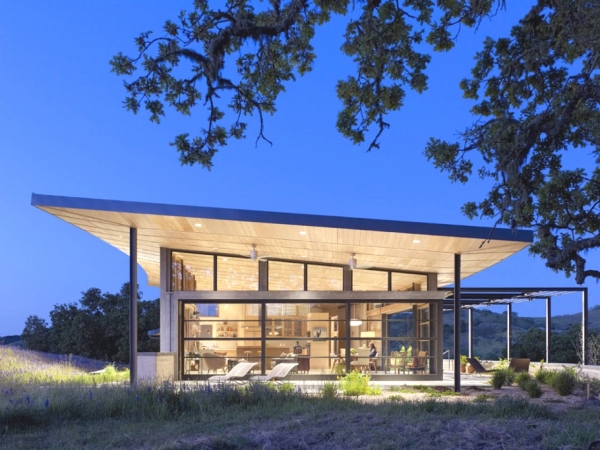 The owners could not deny their emotional attachment to their distinctive ranch house where they lived all their life yet they desired an exclusive environmental home design. The Caterpillar House's visionary architect Feldman Architecture met with the owner's request of creating an eco-sustainable modern ranch house. This wooden house implements ecological natural foundations while keeping the essence of a modern ranch home.
The core element of this unit is the living room which is protectively wrapped around in floor to ceiling glass walls. This offer a three-fold purpose of naturally illuminating the house; providing a panoramic view of its scenic dwellings and maintaining internal temperature by acting as a thermal element. The walls of this house are transformed with the help of excavated earth thus connecting literally and ideologically. This too is multipurpose – it provides temperature control by changing the internal atmosphere to adapt to the external environment; secondly, it forms the site's natural contours.
Other ecologically supportive initiatives are rainwater containers for irrigation purposes; a low roof to prevent direct sunlight, south facing glass doors to allow natural light, Integrated photovoltaic panels for producing natural energy. The house plan follows an open design with the kitchen located as a central space and other rooms positioned around it. All these elements combine into a synergetic whole to provide the perfect sustainable ecological unit while boasting of an aesthetically modern design.