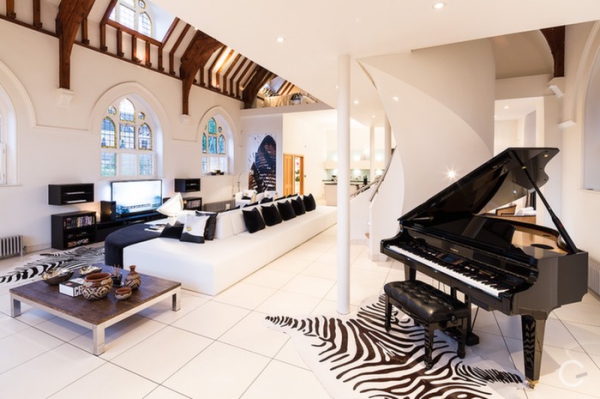 Old abandoned churches make for some splendid and stylish living space as illustrated in this design by Gianna Camilotti Interiors. This converted church home offers 236 square meters of indulgent living in east London, making full use of the high ceilings, generous volume and stunning detail.
The singular volume of this building is vertically tiered into two distinct levels; the social and living spaces occupy the ground floor with a sinuous spiral staircase leading to the bedroom and private living on the mezzanine. The decor is washed in white, beautifully interspersed with smart furnishings and accessories in black and neutral shades. This polished affair contrasts handsomely with the rustic and warm tones of the original structural woodwork of this converted church.
The double height spaces are flooded with light by extensive fenestration that add old world charm to the modern interiors of this residence. Set against the stark whiteness of the building interiors, the windows form a visual motif that sets a rhythm to the space. Low lying tables and well contained elements ensure the overall volume stays uninterrupted woven together.  Structural elements become increasingly pronounced on the upper level where these integrate to organize the various functions and give the decor its distinct essence.
A striking and sharp design, this converted church embodies the youthful zest of London that finds home among its history and tradition. We love the designer's simple yet stylish rendering of every area and function that sets this project apart.