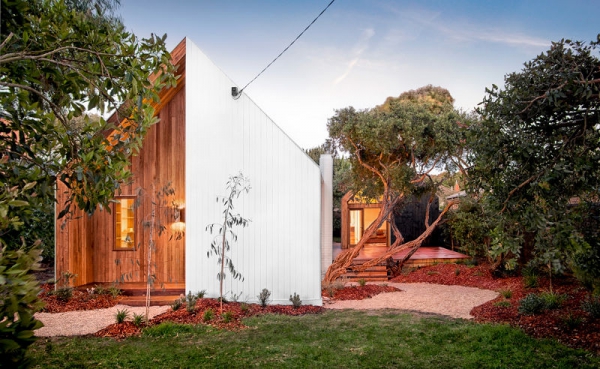 Don't you just love a good renovation project? Especially when it is done as successfully as this renovated cottage was? This once run-down beach shack was transformed into a lovely cottage by architectural studio Auhaus Architecture; you can find this little gem in Barwon Heads, Victoria. It is actually a sister cottage to a connected house that maintains the same appearance and design as the cottage. This is an excellent spot to have guests stay, or simply lounge about as they enjoy the sea breeze and drinks in the evening.
The use of wood in this renovated cottage is actually done in a very refreshing way. The stain on the wood is simply beautiful, and the way it is used as a framework is excellent. We love how it comprises the flooring, the paneling, and the majority of the kitchen. The contrast of the textured white walls is also an excellent addition, keeping things simple and elegant. The incorporation of the native tea trees is a wonderful connection to the natural surroundings of the area, adding more depth and beauty to the cottage.
We love the high-rise ceilings in this renovated cottage as well. It feels almost like a cathedral as you look at the window design and how the ceiling actually flows throughout the home. Much more space is created with these ceilings; they detract from the fact that the cottage is indeed just a cottage, it feels very homely.
You don't have to live near a beach to obtain the same look that this renovated cottage has. If you have a small shack or similar structure behind your home do yourself a favor and turn it into a second dwelling that you can relax in. These little getaways from the home are perfect when you want to have some relaxation time to yourself, or if you're more of an entertainer, these are great for that too!