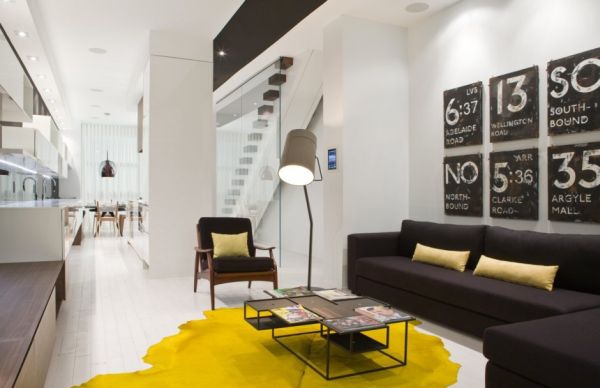 This contemporary apartment in Toronto Canada, designed by Cecconi Simone, epitomizes the art of combining modern architectural and decorative styles. Minimalist design features combine with contemporary western apartment décor and architecture help to create a picture of sophisticated beauty. The frames of the rooms themselves are modernistic with walls that are beveled and framed into different shapes instead of traditional one dimensional walls.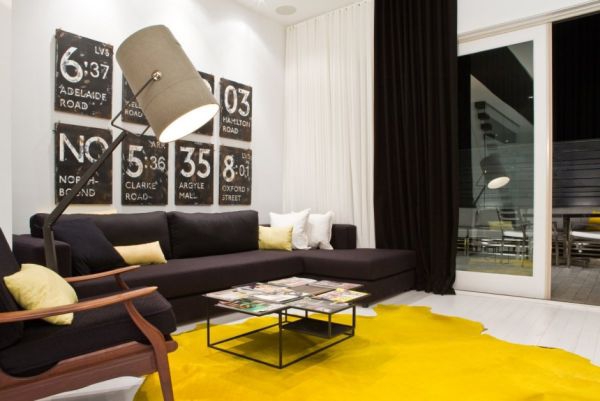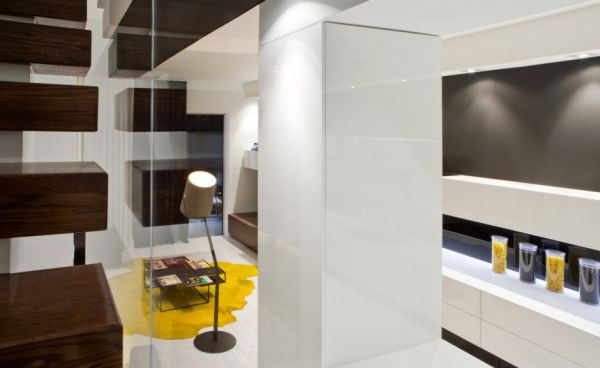 The colors used inside, a combination of light and dark with a splash of color work perfectly to create the fresh look. The downstairs living area has furnishings that are predominantly white, black or dark brown. The bright yellow rug creates excitement and style to the room especially since it defies all traditional shapes. Both the centerpiece and lighting for the room are unconventional as the light has an oriental flavor while the center table has the look of abstract art work.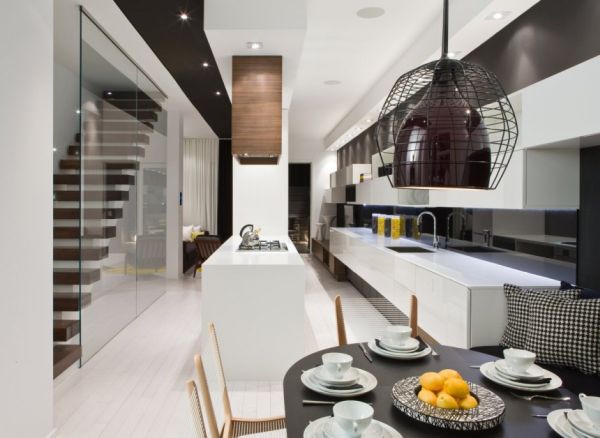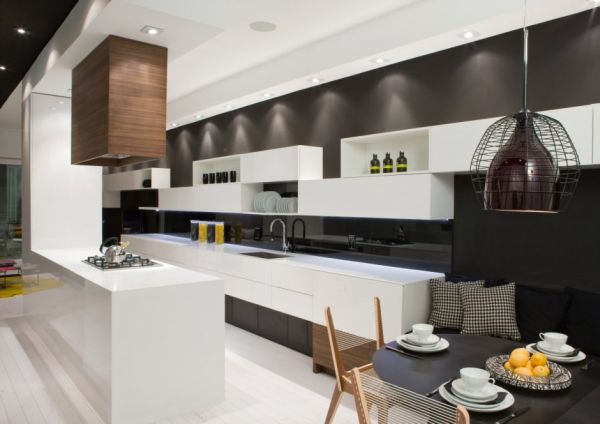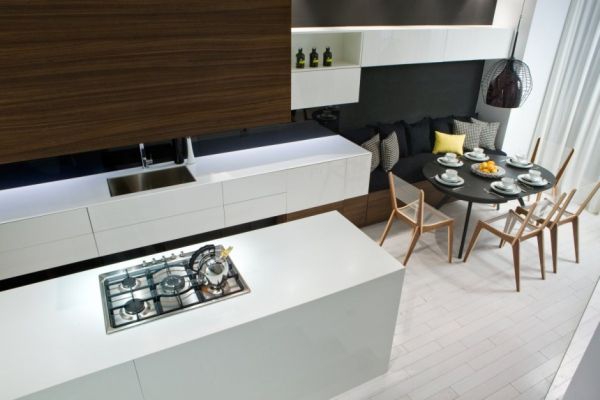 The kitchen is identified by two clean white extended surfaces, one containing the stove and the other holding the sink. The kitchen opens into a dining area with a six seater dining space accentuated by an artistic chandelier.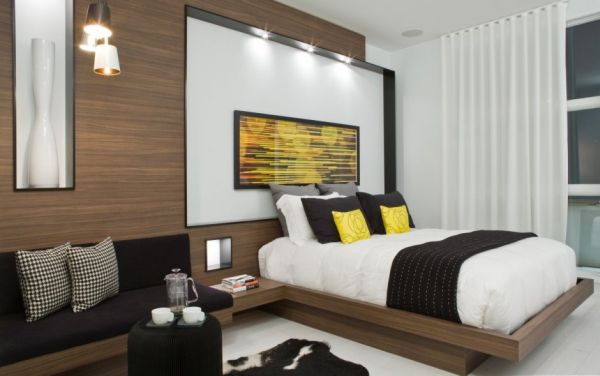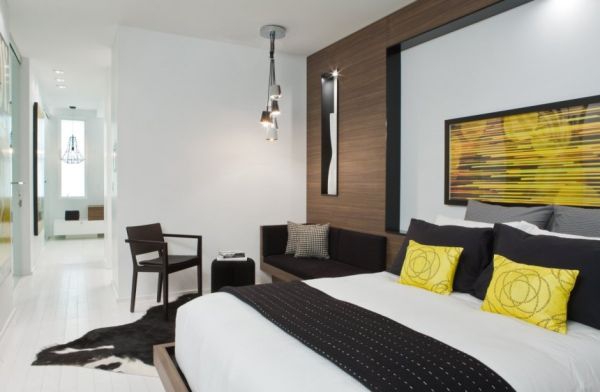 The Asian style chandeliers that hang from the bedroom ceiling accentuate the new age look. The use of yellow to create contrast is continued in this room with the framing in the headboard as well as the cushions on the bed.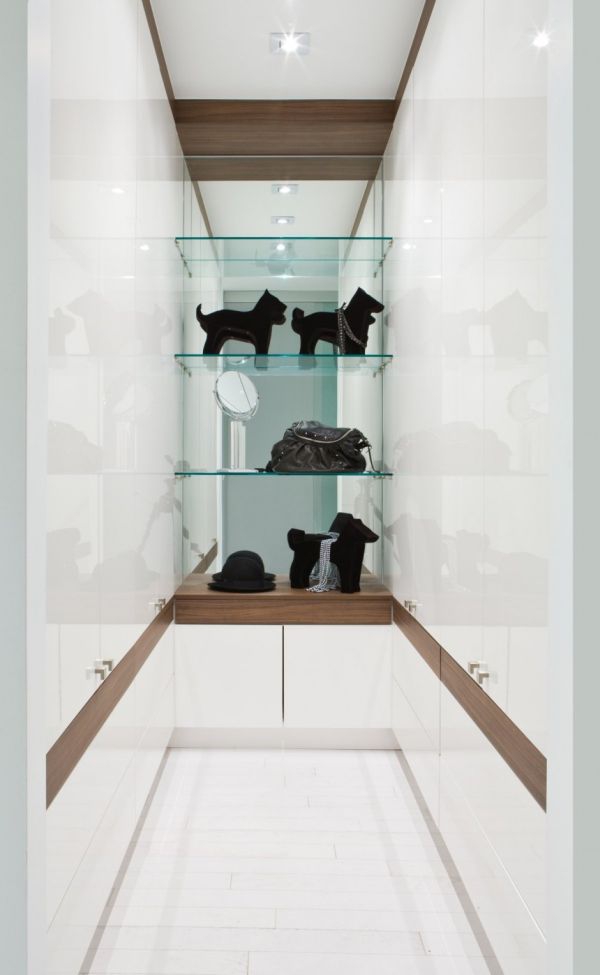 A gorgeous eccentric closet adds to the appeal of this apartment with contemporary interiors. It is rectangular in shape and has multiple drawers on both sides leading up to glass shelves at the far end.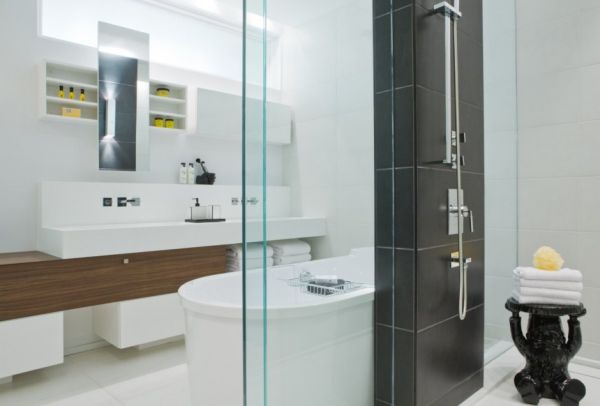 Transparent glass panels in the bathroom help to create a neat clean and chic look that characterizes the typical contemporary apartment. The art work (a carving of a sitting person holding a platter above his head) doubles as both a decorative piece and towel holder.
The combination of contemporary designs and chic décor ideas in this home help to make it more than just a typical living space. It is more of a spa-like, inspirational retreat for the mind, body and soul, a visual and intellectual treat, especially for those who like to be uniquely fashionable.