The Arabic influence of generous hospitality is only equal to their technologically marvelous creations.  If there is ever an example of architectural paradise on earth, it has to be in the Gulf. True to their name, here is another example of a unique design and a mammoth project sure to leave you speechless.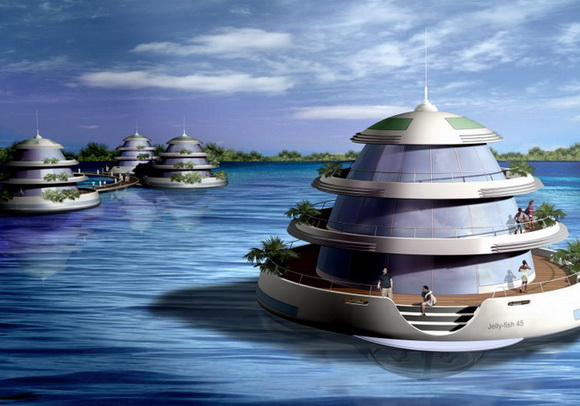 The "Amphibious 1000" is an island resort to be built on the protected marine coastline of Qatar, estimated at US $500 million that promises to be a mélange of ingenuity and daring spirit of man. This ambitious resort will imitate the form of a semi submerged enormous marine creature comprising of residential complexes, offices, central aquatic garden, floating channels and underwater marine arcades around the central tower which will host a panoramic restaurant.
This resort can be equated to a synthesis of science fiction and fairy-tale by taking on technology and fantasy to a whole new level.  This original design promises to be even more impressive than the underwater hotel Hydropolis which failed to take off. You'll be able to enjoy four stylish hotels featuring 75 luxury suites; the suites themselves will be multi storied with guests room semi submerged for the visitors to enjoy the aquatic wonderland. These units will be designed to house up to 6 people and the hull will be made of 80% recyclable material.
There will be interactive sea life exhibition galleries in the lobby and electric vehicles to transport guests throughout. The floating restaurant draws inspiration from aquatic flowers. In fact, as per Giancarlo Zema Design Group, the Italian architectural firm in charge of designing this project, the entire project has drawn inspiration from the ocean itself and is a symphony of architectural science and ecological balance. This enchanting, magical pleasure dome reminds you that it's only the royal riches that bring the illusion of a desert oasis and transform it into an aquatic wonderland.