More than just an ordinary beautiful table, this design is a piece of history that has been developed and modified over time to expand on its potential. Originally conceived and patented by Robert Jupe in 1835, these round tables were translated into a true working solution by furniture designer and manufacturer David Fletcher. Evolving from its first working models in 1997, the Capstan Table is a stunning marriage of engineering precision and flawless aesthetics. A marvel of geometric sensibilities, this unique table design assembles individual components into a round table that can explode in dimensions without losing its shape or appeal.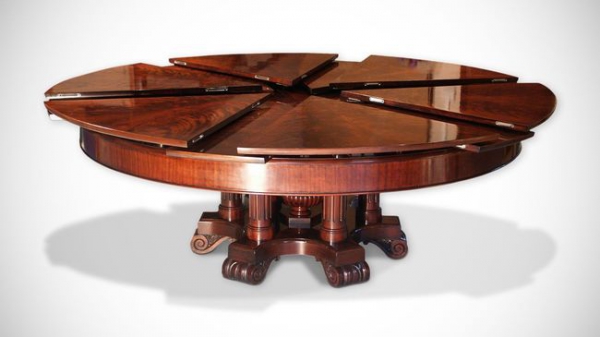 The table top is constructed of a layer of individual wooden leaves built around an aluminum honeycomb system, which gives this table its structural integrity and strength. The topmost layer consists of six pie shaped leaves that constitute the table top in its original dimension. Below this layer are two more layers of leaves, the second of which comprise of six arrow shaped leaves. A central star shaped leaf lies below these. Enclosed within a wooden skirt, these layers rise and fall when the table is turned by 120 degrees, radially expanding or contracting by 73% in dimensions. What results is a unique table design that offers two whole round tables in one – distinct in their size, geometry and aesthetic.
The tables are constructed out of fine hardwood and finished as per their environment and applications. Teak is the wood of choice for marine applications, while Brazilian Mahogany and European Walnut are preferred in domestic environments.