A celebration of style and statement crafted in simplicity, this modern coffee table from Studio 74ram epitomizes the sensitivity and flexibility of contemporary design. Nicknamed Budapest, the coffee table- like its namesake- comprises of two parts that are whole in themselves, but come together to create a symphony of form, flair and function.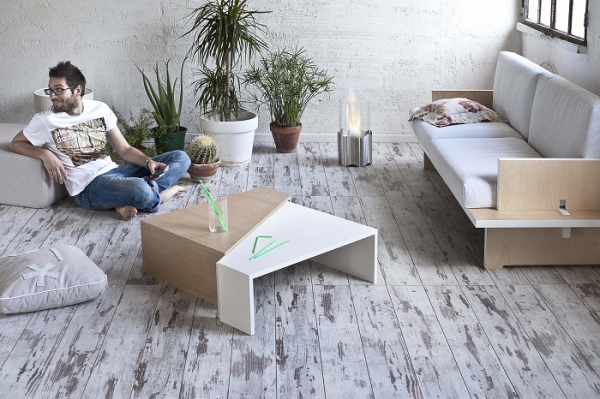 The two sections of this design are variably finished to create a unique play of aesthetics- while one section brings organic patterns with a veneered wood finish, the other brings a splash of solid color to the proceedings, constructed in MDF. The union of the two forms can be adapted to the demands of space and use, creating more than just a static modern coffee table. It is this versatility that sets this design apart and gives it its unique edge. Ideal for homes and offices which flow and adapt to the changing moods of modern lifestyle, the Budapest works well in any decor, style and theme.
Available from online retailer Formabilio, this modern coffee table introduces harmony and space saving solutions into your interiors in four different sizes and four different colors. Its unfussed form is just as inviting as the myriad possibilities it holds, making this a great buy for those looking to create and recreate their living space with the gentlest of strokes.