We do not know if anyone needs an extra reason to lounge in bed longer than they should but this bed could be that reason. Designed by Nuša Jelenec and produced by Lago of Italy the Col-Letto bed is womb like in appearance and received the Elle Déco International Design Award in 2010. This original design features a cozy feeling bed and turtleneck like frame that is made of a ring of soft foam that is almost nest like. This surrounding foam can roll up for a more open feeling or rolled down for privacy and a visual and sound barrier as the user desires. The foam comes in a variety of colors and can be fastened in place with clips that fit into a ring along the lower part of the bed. This bed invites you to flop right down and snuggle up in a warm cocoon for a good nights sleep.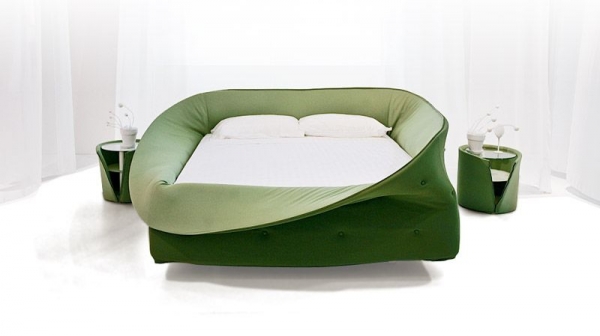 The beauty of the Col-Letto bed is not only in looks alone but also in the fact that it can fit into many different styles and bedroom designs. Whether it is needed for a chic upscale master bedroom, college apartment, or an open air loft the Col-Letto will be right at home. And it allows the user to shape the bed as they desire and as their needs and tastes change. And if your bed needs company, Lago also makes side tables of polished glass to match the bed. They also look like turtle necks made to cover the tables from top to bottom. Just undo the Velcro to access storage shelves inside and Velcro back up to cover any unsightly clutter.
The only problem with this bed that we can see is that the user may never want to get out.