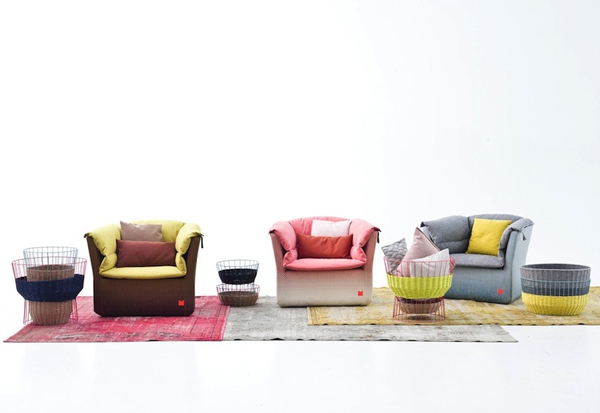 Designers get their inspiration from just about anywhere, but the inspiration for this particular furniture collection is rather interesting. From German designer Sebastian Herkner comes the Coat Furniture Collection, inspired by the hosiery industry, more specifically, socks that have the non-slip soles. Designed for an Italian manufacturer named Moroso, the polka dot pattern that is created with the non-slip soles is replicated at the base of all of the furniture pieces, giving it a very unique look. While it is unique it still has a very cozy and inviting appeal, especially the way the cushion seems to envelope whoever sits in it.
We especially love the bright colors used in all of the furniture pieces here. The vivid yellows and reds are especially lovely, and we really appreciate the use of neutrals and browns to balance them out. The red ombre look in particular is one of our favorites. The optional baskets you can purchase come in the same colors and shades; these are perfect for blankets or throw pillows and look adorable next to the chairs and couches.
This is a different approach to furniture design, but we are totally on board with how it has turned out. It is very contemporary but maintains the comfort that a chair is meant to.