We adore this whopper of an office desk. The Kenn Desk, by Kenyon Yeh, created for Seletti, is a positively stunning piece of furniture. It comes with a lamp and an additional shelf to support the tabletop, and, to add more loveliness to this wonderful piece of furniture, the table is adjustable.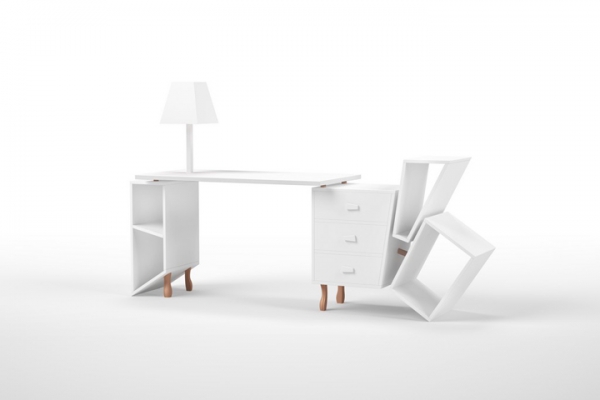 On one side of this fantastic office desk, a clean-lined lamp fills the space. The bottom half of this side is a cabinet with two wonderful shelves. We love the angles of the shelves, adding intrigue and interest. The bottom shelf comes down on a sharp angle, coming to a point on the floor. Two wonderful wooden legs, reminiscent of a claw foot tub, are placed on the inside of the office desk, providing stabilization.
The table section of this desk reminds us of a bridge. The small division between the top half and the bottom half of the desk, simultaneously unifies and isolates the different sections of the design.
On the other side, the asymmetric geometric shapes continue. The three drawers are absolutely gorgeous, with their angular handles, maintaining the theme of the design. At the bottom, the other two beautiful wooden legs, are also placed on the inside of the office desk.
We love the geometric shapes that seem to hang off the side of the desk. This would be our space for books, magazines and notebooks. And on the top, we would place a beautiful and lively green plant. If we could find a way to stick the plant inside the top cubby without it spilling, we would definitely do it.
This desk is an extremely interesting piece of furniture. There are so many things that you could creatively do, in terms of decor, with this design. Even without any added adornments, it is an inspiring and beautiful piece of work.
Absolutely gorgeous!