Thinking about sprucing up your interior, but the budget is tight at the moment? There are so many DIY projects you can get started on which don't need special skills or a lot of money. All you need is some ideas to spark your creativity and let your imagination take over to create something unique. Here are some easy DIY fixes, which don't require special DIY skills, to inspire you!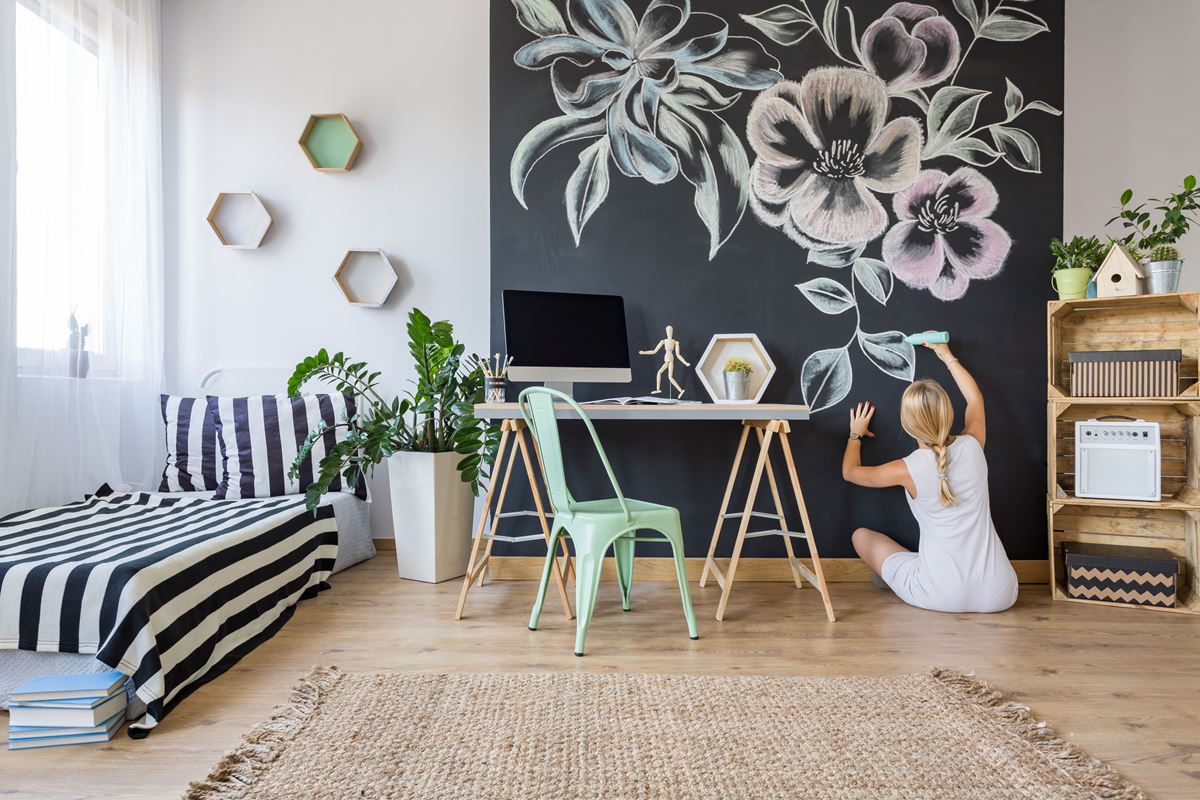 Used wooden pallets can be picked up for next to nothing and are the ultimate in re-purposed materials. Use them to create a solid base for a bed in the spare room. Stack a couple, top with glass and you've created a statement coffee table. Or, fix one to an accent wall, with the slats placed horizontally, add brackets and use it to display plant pots filled with fresh herbs and colorful plants.
Stairs can often become a tired and boring space, yet are often neglected when we're thinking of home décor. Next season, they'll be in much more focus.
If you don't have the budget to replace your stair carpet with a new one, think about removing it, and then painting them, with special floorboard paint. Or sand and varnish the steps for a more neutral look. You can also think of a creative way so make the space under the stairs usable.
You can add a sense of drama at night by adding a flexible LED strip light along the wall or in each stairwell – no advanced electrical or woodworking skills are needed.
Maybe it's time to replace that dated wooden banister, too. Easy – just install two brackets and link them, loosely with a thick, smooth rope.
Shiplap is a term used to describe boards that are arranged so that they overlap each other.  They are available in wood or painted finishes, and can be used to create a rustic nautical or modern Scandi look. While it's not that easy to create a shiplap effect from scratch, there are alternatives. An easy and low-cost way to give your kitchen or bathroom splashbacks a fresh new look is to apply some peel and stick shiplap. The great thing is that you don't need woodworking or carpentry skills to achieve the look you want.
Alternatively, if you already have tiles and don't want to go through the hassle of removing them, consider painting them in a color that will help to 'lift' the rest of your scheme.
#4 Replace Doorknobs / Hardware
If you really don't want to get involved in a major decorating project, a small but eye-catching upgrade that you can start, step by step, is to replace the hardware on your doors and furniture. Avoid the mistake of swapping one boring and neutral handle or knob for another, that's newer but equally bland. Look for ones that are quirky, colorful and original- it's amazing how much attention these details will attract and how much they say about your confidence and taste.
For the ultimate chic modern interior, it has to be concrete. However, there's no need to be mixing and applying the real thing. Give your walls or even kitchen and bathroom surfaces a concrete look by using grey paint and texturizing it. There are plenty of tutorials and videos online to help you become an expert in the techniques you need.
Or, if your interior already has concrete features, and you're ready for a change, consider covering it with chalk paint in a soft or pastel color.
How long has it been since you've added any new wall art? No need to invest in new paintings when you're on a budget. Think about re-using old calendars, natural objects, greeting cards, letters, or printed photos from your camera.  Re-use the frames from pictures that you've become tired of, or no longer notice. Then rearrange them and you'll create a totally different feel.
#7 Give Your Furniture a New Lease of Life
When you have items of wooden or metal furniture that have started to look old-fashioned and unappealing, it's easy to upgrade them. You don't need advanced DIY skills – just sand them down and apply chalk paint or regular paint. Change the hardware as well and you'll give the piece an entirely new look.
If you want to be even more creative, consider covering a chest of drawers with wallpaper – the more dramatic, the better. You could even go for a mixture of different patterns, perhaps using free samples for a really low-budget upgrade.
Hope these few simple ideas have inspired you with the confidence to get started! Enjoy!