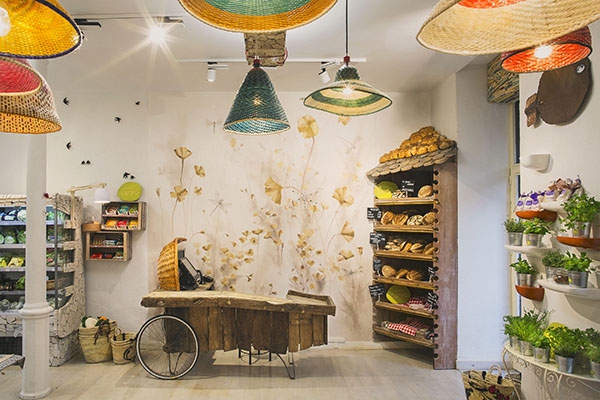 Imagine a place where your local grocery store is the best representation of organic living. Can you picture it? We love a place that features innovative functionality that in turn helps serve its community! All that and more is provided with today's feature. We've taken a little trip to the exotic location of Madrid, Spain to check out a dwelling that provides the best of both worlds with a restaurant-market hybrid design. The patchwork interior of this lovely place adds an inviting touch that will always attract newcomers.
The patchwork interior of this place, also known as Mama Campo, was directed by a renowned photographer named Manolo Yllera. Not only does the multi-purpose theme apply to this establishment, but it also includes Yllera as well, for he is also the photographer responsible for capturing the authentic beauty of Mama Campo. Not only is the food provided organic, but the elements combined to create it are also environmental-friendly. The patchwork interior gives us a whimsical feel with eccentric lighting, thanks to several designers by the names of Txula Artesania, Alvaro Catalan de Ocon and Marre Moerel. The polished wooden floors create balance that branches off into a number of chair and table sets present in the eating area. Vibrant splashes of color and texture are brought in through the addition of more intricate chair designs. If we take a look back up, we'll notice that it looks as if the floor and ceiling have reversed! Thanks to the team Qatay, the patchwork comes to life with the use of circular rugs, creating a rustic yet intriguing style.
It's quite apparent that the success of this restaurant and market is largely due to the collaboration of amazing designers who made it a reality. From furniture pieces from Ronan and Erwan Bouroullec and exclusive art designed from Carlos Villoslada, this place is filled to the brim with creativity!