The simplest of materials come together in creative genius to construct a space for evolution and adventure. This delightful 64 square ft. treehouse, built in Nashville, Tennessee by ModFruGal for her two boys, is a playful abode that redefines time out in nature.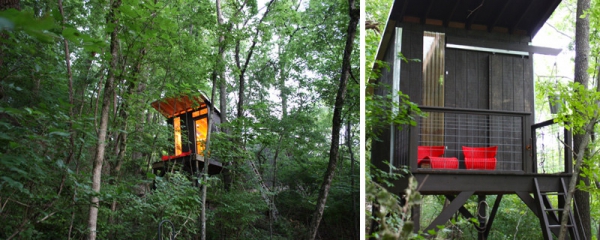 The treehouse is built on an 8 x 12 ft platform with wired wooden railings, accessed via a step ladder. The 8 x 8 ft cabin is constructed out of stock wood siding panels in sumptuous black stain and is set back to create a cozy front porch. Plywood covered with corrugated galvanized sheet metal forms the roof and cantilevers forth for maximum weather protection.
The door and windows have a sliding secondary screen that offers ventilation and light without letting any bugs or pollen indoors. Further ventilation is provided by inlets between the rafters, screened by corrugated polycarbonate. Vertical glazing and a skylight, also in corrugated polycarbonate, maximize natural light indoors.
The furnishings are simple yet ingenious. Twin air mattresses are stacked up to form a day bed, taken apart by the boys at night. Chalk board paint on an inner wall ensures they stay occupied on even the rainiest of days. Inbuilt shelves ensure adequate storage without claiming much space. Adding a final touch of bold, playful color are two vibrant red cane chairs upfront.
Through practical ideas and sound design this treehouse brings all the safe comfort of modern living into the tiniest of formats- thumbs up on originality from us.