Here's a wonderful idea for the kids' bedroom. These fantastic kids play tents by LIFETIME Kidsrooms are unique and fun. They provide an alternative to normal beds, allowing you to spice up your child's bedroom. They also create a wonderfully private space for your children to play and sleep, almost fashioning an entirely different world. These kids play tents add a generous amount of whimsy to any space and they can easily be adjusted to open and close at will, providing variation and function in the design.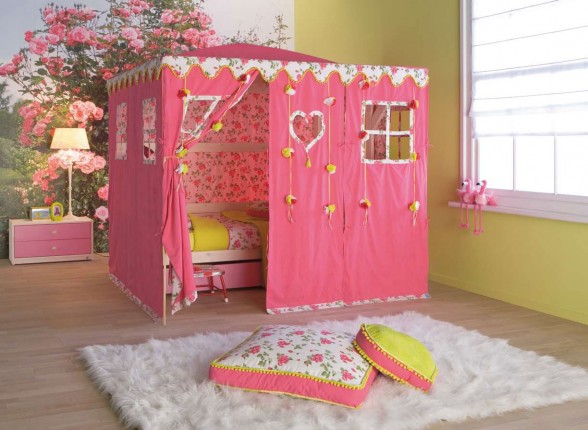 They are not just limited to the bedroom, either. They can create a space to play and nap, in the playroom, giving your child an alternate space to rest and entertain. If you want to keep an eye on your children while they play and/or nap, you can place a tent in the living room or the family room. This way, while you're cooking, watching a bit of television, or working, you still have an eye on your kids.
The patio or terrace is another wonderful place for these kids play tents, especially if your patio or terrace is covered. This creates an indoor/outdoor space for your kids to play, instead of or in addition to, a treehouse. With these tents, your child has a retreat and a play place in their wonderful little home outside.
The bright pink tent is lively and playful. Pink flowers accent the solid pink color, and yellow adds a dose of sunshine. The heart windows are a wonderful and enchanting touch.
The bright blue tent is cool and effervescent. Different shades of blue, and white, form stripes, adding interest to the inside of the tent. Yellow-green accents, located on the bed, create variety in the color palette.
These tents are absolutely adorable: delightfully charming additions to your kids' space.