Fine concrete design and manufacturing company KAZA takes wall surfaces to the very edge with this new collection of tiles. Designed by Patrycja Domanska and Tanja Lightfoot, the Edgy wall tiles translate geometric tessellations into an intriguing and innovative three dimensional exploration of light, shadow and space. Marrying organic unpredictability with the measured rhythms of geometry, line and form, these concrete tiles create unique vertical landscapes that both complement and define space.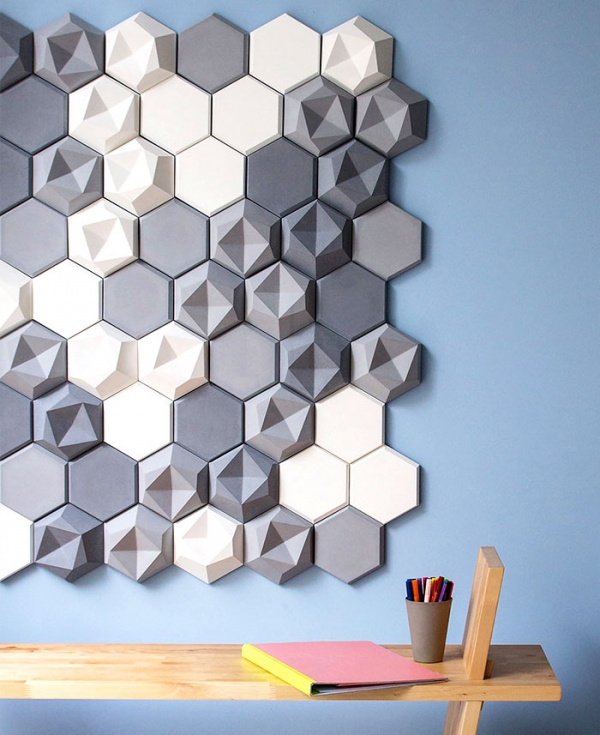 Built of reinforced, fine composite concrete, the Edgy tiles are articulated into two primary formats – a three-dimensional tile with a hexagonal base and an elaborate surface geometry, and a simpler flat surfaced hexagonal tile; the tiles measure 160 x 138 mm in both formats but vary in depth. The two profiles can be combined and contrasted to create a wide range of compositions that take on an animated aesthetic, or can be laid out to articulate brand identities, messages and graphics. The folding surfaces offered by the product take on new meaning when placed variably across a wall, interacting with the lighting, environment and elements in a space to create unique effects. The tiles are also available in a range of sensuous colors and in both matt and glossy finishes, expanding the possibilities and versatility of this product.
Bringing a deeply tactile quality to the space, these concrete tiles from Kaza unleash a mathematical magic in our homes and offices, which stunningly defies the very logic that creates it.