These Brecce Lamps by Marco Stefanelli are positively resplendent. The lamps are pieces of wood, that have been gutted in certain sections, usually in an angular fashion. In the cut out section, a fantastic yellow-gold light is placed, creating an astonishingly unique wood lamp.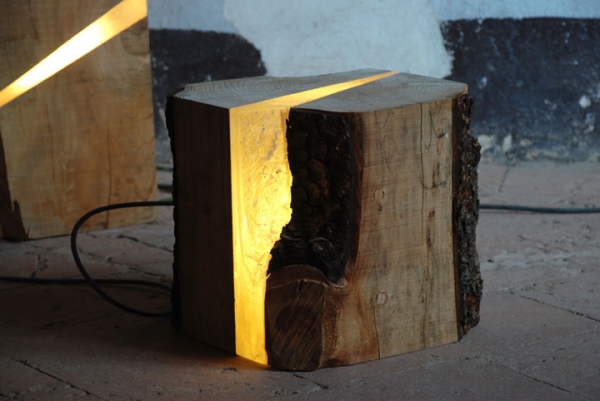 The lamps come in different shapes and sizes, each one providing a unique experience. The taller wood lamp has a light emanating from the bottom half, and the shorter ones either have light coming through the middle or in a diagonal line. The sensational tree branch lamp, has a small section of golden light in a circular configuration. Of course, these are not the only choices, the natural materials make each piece different in this wonderful collection.
The shorter wood lamp can be used on a table, on bookshelves, or as a decorative stool. The taller wood lamp, would be beautiful in an entrance way or next to a sofa in the living room. The tree branch lamp, a notably unique lamp, would add style to any table. The beauty of this lamp, makes it easy to visualize it sitting on a dark table, providing pleasant lighting for an engaging dinner conversation.
The yellow-gold light used in this lamp collection, is a fantastic choice. The light is earthy and warming, reminiscent of a warm campfire on a star-filled night or lava slowly oozing down an erupting volcano. It creates a soft, natural, and soothing light, making its surrounding atmosphere, a comfortable and inviting place. Both the wood and the light used in the lamps create a palpable connection between the home and nature.