Picturesque settings, indulgent facilities and an extensive program set the Aqua Dome Hotel and Thermal Spa apart from its contemporaries. Located in a lush valley in the Austrian Alps, it takes a timeless experience and redefines it into a four star lifestyle. A sensuous meeting of the elements, this luxurious winter spa hotel scores high on originality, experience and ambiance.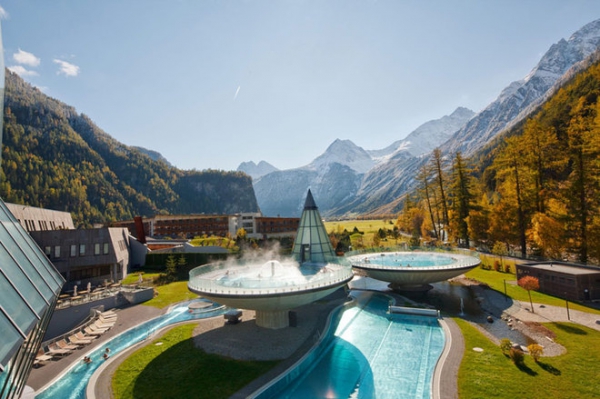 With its functional demands giving shape to its form and architecture, the facility comprises of exaggerated geometric volumes. There are various spa pools, each of which offers a unique treatment and experience. Nicknamed the 'levitating bowls', these include a Whirl Bowl – a thermal spring fed hot tub and whirlpool – as well as a Brine Bowl – a salt water bath with underwater music and lights. In addition to these there is also a Sulphur Bowl that runs sulphurous water every 15 minutes, as well as sports and activity pools, saunas and an endless list of treatments. The pools are well appointed and lined with plush seating and massage beds to guarantee complete unwinding.
The interiors of this winter spa hotel are warm and inviting, with an array of materials coming together to create tactile spaces with relaxing, earthy vibes. The rooms are smart and crisp in their design, with wood dominating the visual palette and keeping things light and easy.