Today, let's take at look at some amazing bathrooms. Hopefully, these pictures will provide some fantastic master bathroom ideas, for your present or future home project.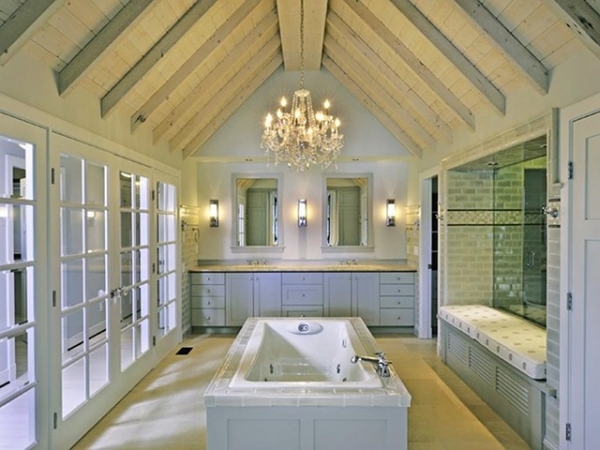 This spacious and light colored bathroom has vaulted ceilings and an open shower. The bathtub's placement, in the center of the room, along with the chandelier, creates a lovely centerpiece.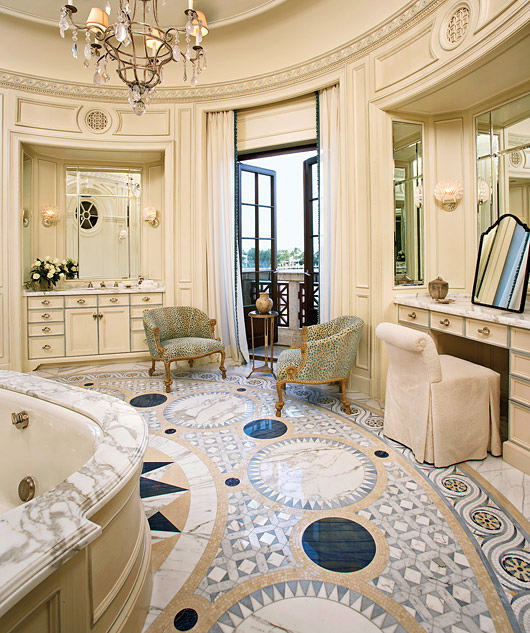 This detailed and luxurious bathroom has French doors that lead out to the patio, and marble countertops. Ample seating and decorative flooring are two fantastic master bathroom ideas.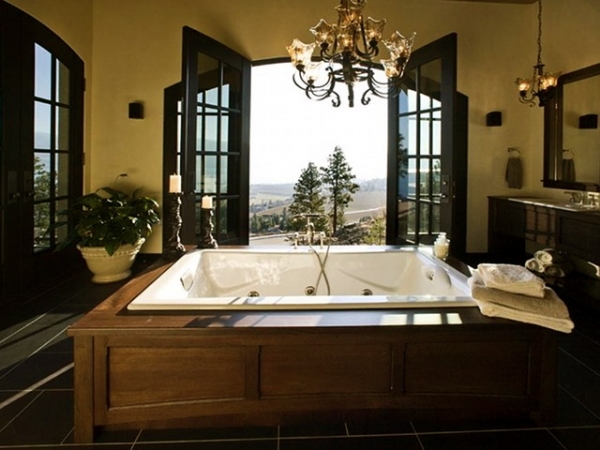 Black tile, a wooden bathtub, and warm lighting contribute to the poshness of this bathroom. It has multiple chandeliers and beautiful views.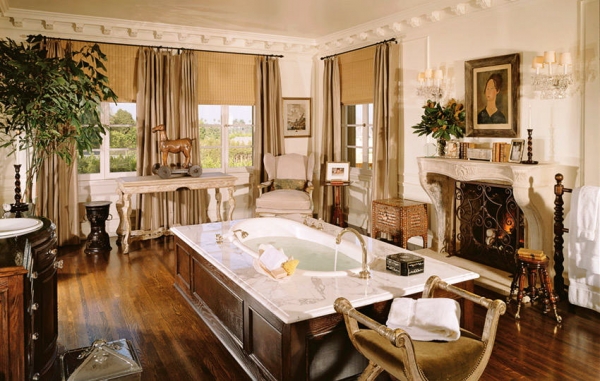 Complete with a fireplace and plenty of decoration, this room falls into the amazing bathrooms category, through its use of living room furniture in the bathroom. A unique entry in the world of master bathroom ideas.
This white, light blue, and gold bathroom also has decorative floors, and a centerpiece bathtub. A television is placed for perfect viewing, and sconces and lamps light the circular room.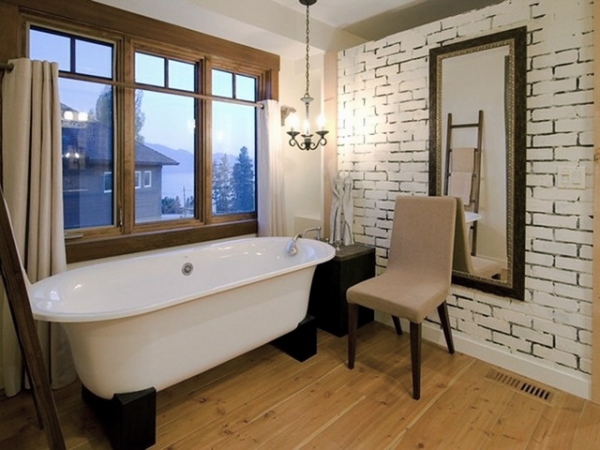 Modern lines and earthy colors are magnificent master bathroom ideas. This natural bathroom has wonderful hardwood floors, and the bathtub is placed to the side, by the window. The black shower and white brick accent walls, really make this space stand out.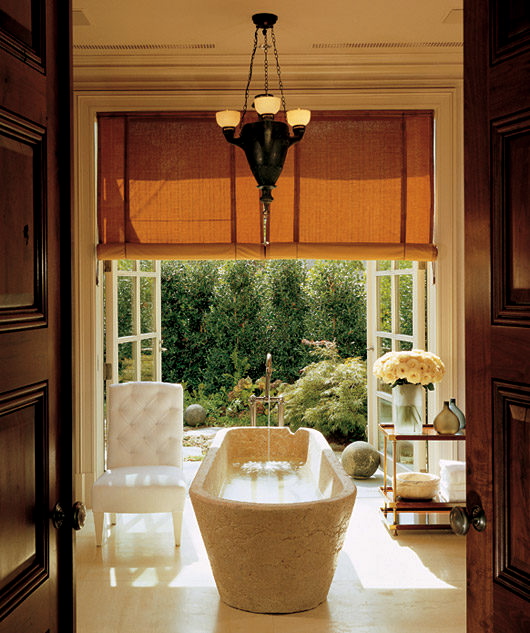 This bathroom nicely uses the outdoor space provided. The absolutely gorgeous bathtub sits in front of the French doors that open to the outside. The earth tones, and beautiful use of stone and marble, add a healthy dose of luxury to this elegant bathroom.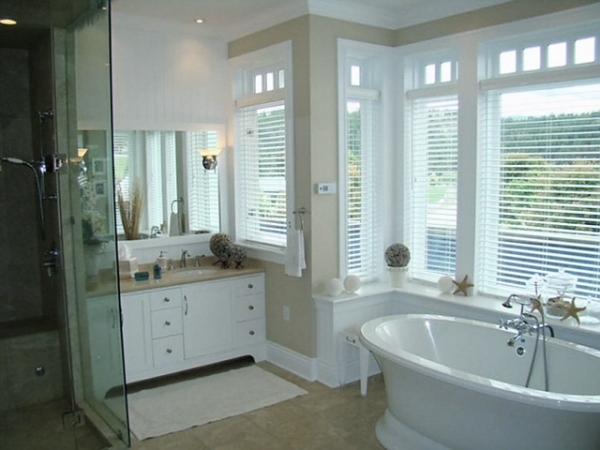 Wonderful views and neutral colors make this bathroom a relaxing place to retreat. This bathroom has a glass shower, plenty of natural sunlight, and a spacious bathtub.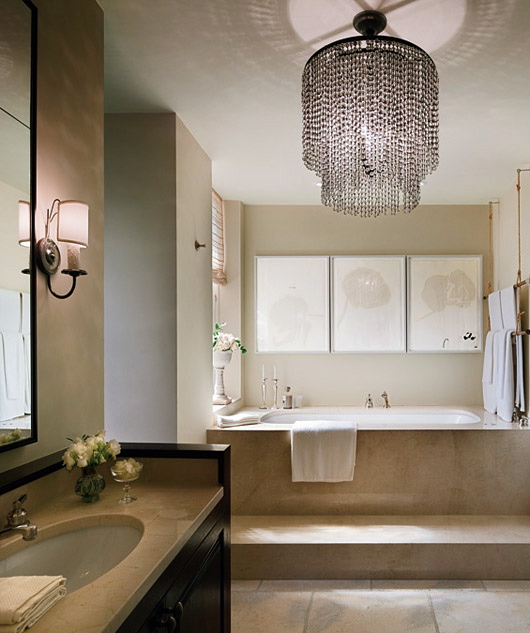 Lavish smooth stone, a lovely set of artwork, and a dazzling chandelier, create the enchanting atmosphere of this elegant bathroom.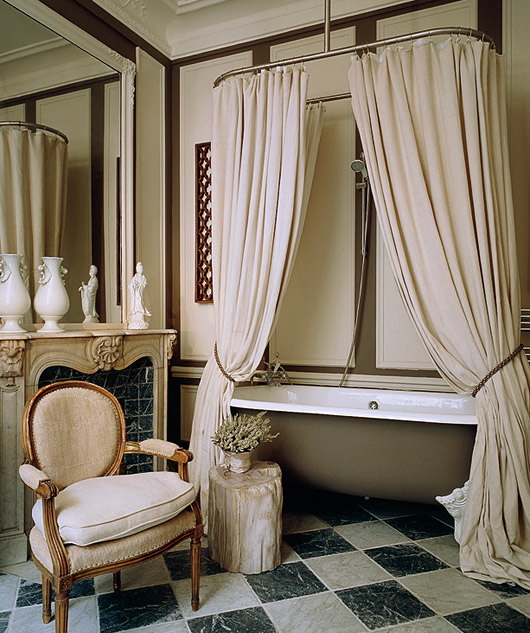 Images found on Homebunch
This bathroom has a fireplace and earthy accents that are complemented by the gray and black tile. The full curtains, surrounding the tub, add luxury and privacy.
These amazing bathrooms are stylish, relaxing spaces. Utilizing some of these ideas, bathrooms can be turned into a place of comfort and luxury.