Light, soft, feminine colors dominate the decor of this girly apartment. The pastel shades are used to coat the walls and they serve the dual purposes of encouraging a light, airy appearance and enhancing the feminine touch. The wood flooring connects the décor themes of each room (with the exception of the kitchen) to create one look for the entire apartment.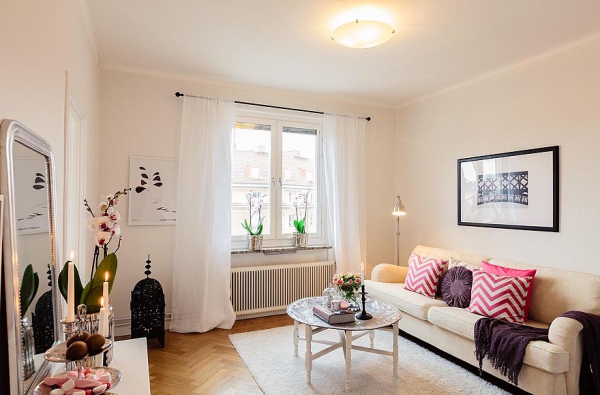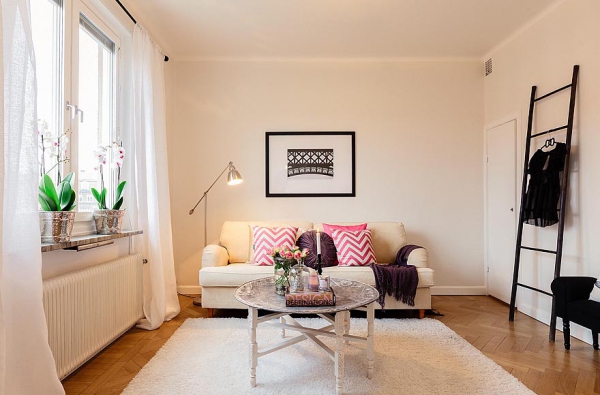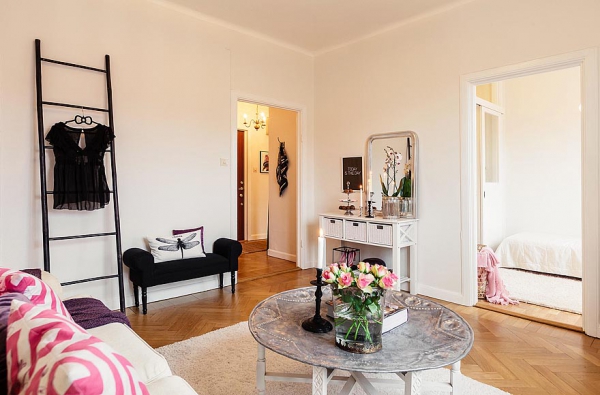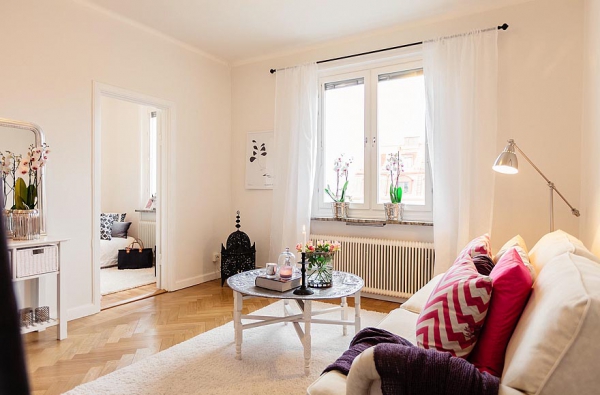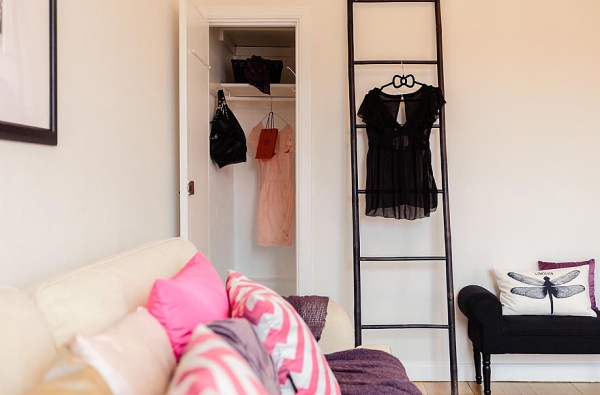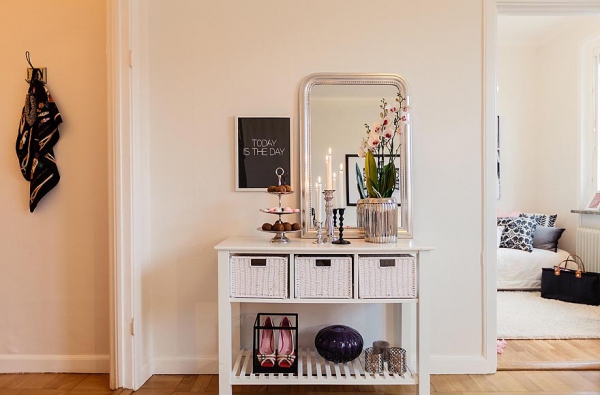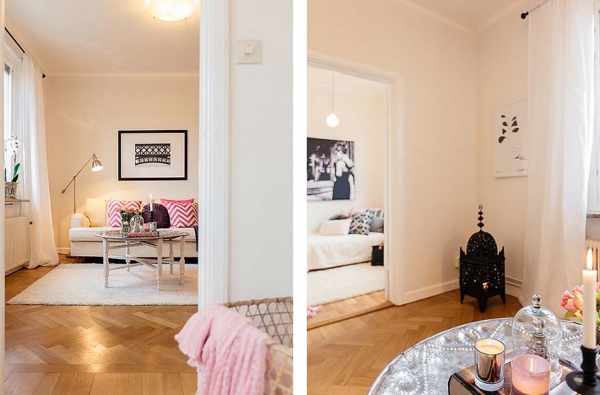 The furnishing style in the living room reflects a desire to merge the gentle temperament of Mother Nature with that of the feminine theme. The off-white sofa is a traditional furnishing item and its color ties in with the theme of the room. A traditional lighting fixture, a standing lamp, stands next to the sofa. The center piece of the room, a center table standing on a soft fluffy white carpet is unique in its design. Additionally the orchids flanking the windows and standing next to the mirror invite the aura of a nature into the room. Pastel shade cushions with bright pink stripes, work well with the plants to introduce a splash of color. The mini closet offers storage and the ladder doubles as an organizer as demonstrated by the dress hanging on it.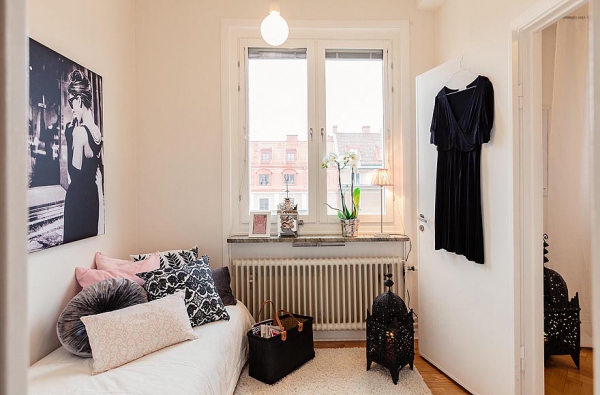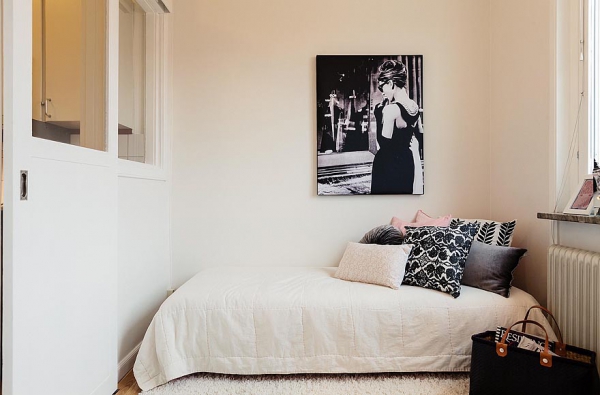 The bedroom adjoins the living area and privacy is facilitated by the separating wall and door. Like the living area, this room is accentuated by light shades used on the bedding, and walls.  The carpeting is also the same as that used for the living room. The plant that adorns the window also serves as a unifying design feature, helping to create the soft natural look of a typical girly apartment.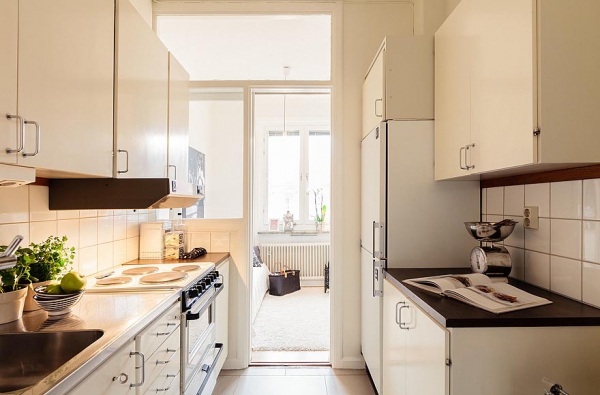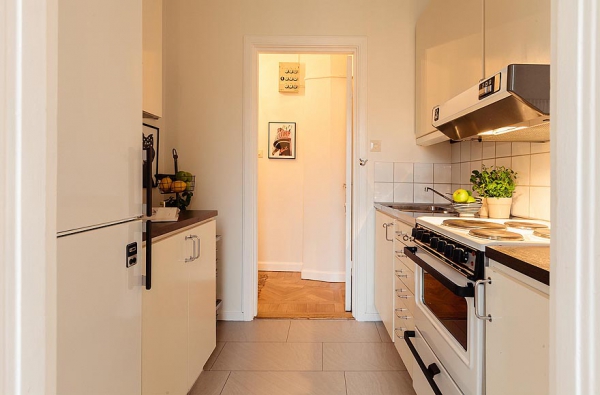 The apartment boats a small but functional kitchen space. It adjoins the bedroom but is separated by a wall and door and also features the nature theme through plants that sit on the counter top.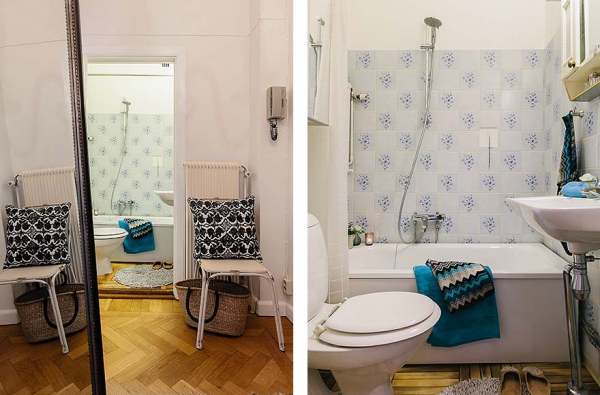 Images found here (website in Croatian)
The bathroom is small but has all a girl needs to be comfortable. This includes the usual bath (with a convenient and classy flexible shower attachment making activities such as hair washing easier.), toilet and face basin.
In essence this girly apartment decor represents the ideal haven for any young woman who wants to stay in touch with her softer feminine side.