'Apartment for Four' is a modern family apartment rendered in sophisticated elegance without becoming overly rigid or elaborate. Designed by Rina Lokvo, this two bedroom house in Kiev, Ukraine is deeply inspired by modern art and uses textured surfaces and backdrops to create stunning visual compositions.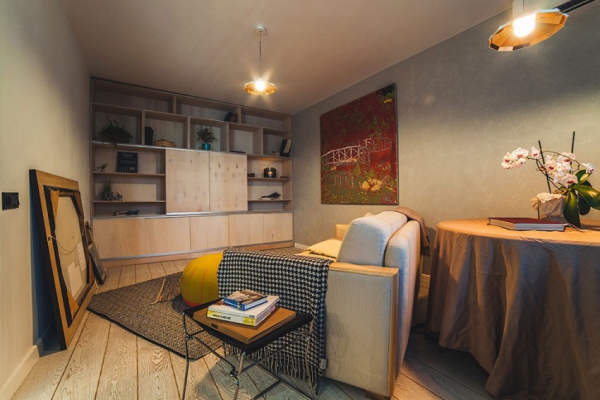 The design bridges the warmth of tradition with the marvel of contemporary artistic sensibilities through a careful use of materials, color and texture. The backdrops are largely subtle in tone, accentuated locally to create a feature wall that sets pace to the room. Grey concrete walls and surfaces work with muted wooden flooring to create a canvas for the designer and residents to paint upon. Individual elements and furnishings add vibrant bursts of rich color and interest that contrast stunningly with the curated collection of art and fittings that populate this modern family apartment.
The social areas offer a polished ambiance with each frame carefully balancing a symphony of sculptural elements. The private areas, in particular the bedrooms, however are a lot more relaxed in their vibe; these are laid out as clean, uncluttered spaces for simple, comfortable living. Unlike the social areas, these do not really adhere to a strict visual sensibility, creating place for personal touches and fluid adaptation. Yet like the remainder of the house, they offer delightful spaces for modern living.
Drawing on a deep-rooted visual and aesthetic appreciation, this modern family apartment creates its own impressive blend of form, space and style to set stage to the lives of its four inhabitants.