A deliciously masculine palette that makes this apartment an ideal abode for the bold and the beautiful. Marrying modernist restraint with a textured intricacy, the architects from FORM create living spaces that not only impress, but draw you into its embrace.
Available on rent, this industrial chic apartment in Kiev, Ukraine is attuned to the modern lifestyle – efficient, evocative and expressive in every stroke and every frame.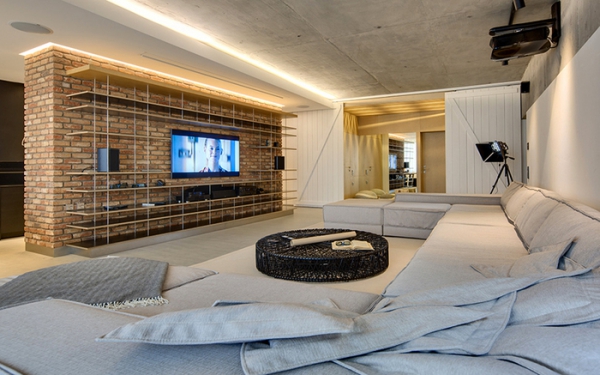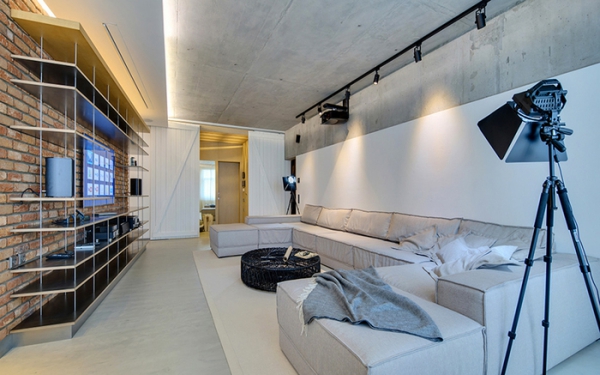 The design was driven by an endeavor to open up the spaces into a more fluid and versatile blueprint for modern living. The client's desire for extensive and carefully concealed storage tempered these efforts, resulting in a number of simple yet significant alterations to the existing configuration.
The front hallway was, for instance, opened up to create a bolder and grander entrance into the heart of this home. An additional recessed balcony and a host of features, such as a partition gate, further help elaborate on the footprint and expand its spatial potential without creating visual clutter.
The resulting interiors of this industrial chic apartment are therefore generous in proportion and extravagant in profile. The textured exploration of form and surface adds a bare modernist tint to the proceedings, accentuating the masculinity of this space along with the choice of furnishings, colors and fixtures that are utterly refined in their aesthetic and beautifully contained in the overall design.