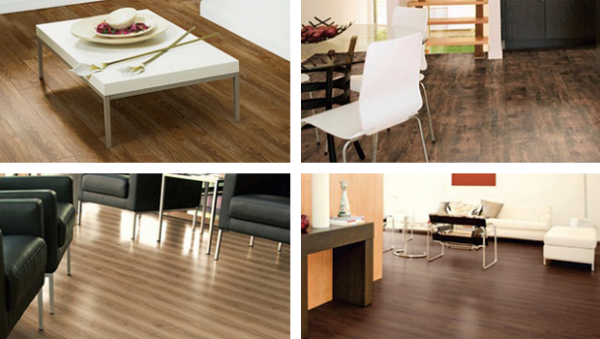 Keeping your floors looking brand new can be a serious struggle. Scuff marks, spills, and normal wear and tear can leave your floors in a less than desired condition. There's an easier option: vinyl flooring. Vinyl is durable, reasonably priced, and adaptable, and it comes in plenty of colors and patterns, making it a wonderful choice for your home. And if you're a die-hard hardwood fan (like us) or a cozy carpet lover, keep in mind that your entire home doesn't have to be vinyl. You can use vinyl in high traffic places like the entryway or the bathroom, effectively reducing maintenance time and effort.
Vinyl floors are perfect for kitchens, bathrooms, laundry rooms, and entryways. They're water-resistant, and a good sweep and an occasional mop is all it takes to keep them in tip-top condition. According to the information found on www.vusta.co.uk there are three types of vinyl flooring:
Sheet– Generally available in six foot or twelve foot widths. They can be cut to measurements or bought as a roll. These work very well in bathrooms or rooms with a lot of moisture because of their seamless install.
Tile– These come in twelve or eighteen inch squares and are measured to a precise thickness to make sure the floor is even. You can get self-adhesive tiles, which will make installation even easier. Precision cut tiles also allow you to easily replace a damaged or defective tile, which is perfect for high-traffic places like entryways and/or kitchens.
Plank– For all of you hardwood lovers out there, these have a fantastic hardwood look, but they cost less and require less maintenance. They are usually four or six inches wide by three or four feet long. These are fantastic for living rooms, dining rooms, and offices.
When choosing your vinyl flooring, it's important to know about the surface coating, or wear layer. The wear layer will help protect the look of your floor and enhance durability. There are also three types of wear layer:
Vinyl No-Wax– This is the lightest wear layer, you could probably get away with this in places like the laundry room (unless your laundry room is high traffic).
Urethane– Use this wear layer in places with normal to heavy traffic. This will also protect against scuff marks and scratches.
Enhanced Urethane– This is the best wear layer you can get. It's perfect for heavy traffic rooms. The scratch and scuff resistance is top notch and it helps the vinyl keep its original sheen.
Vinyl floors also have a protective backing. This protective backing equips the vinyl with even more armor against moisture and mildew growth.
So now that we know all of the wonderful functional qualities of vinyl, it's time to talk about design. Do you want to add a little elegance to your design with a marble look? Or maybe you like the look of stone? You can do both of these with a vinyl floor. Vinyl comes in a plethora of colors and patterns, creating endless possibilities. The colors and patterns are either inlaid or printed. Inlaid vinyl floors have the richest finish because the color is embedded into the vinyl. So, if color is important to your overall design, inlaid vinyl floors are the best option. If you're planning on using vinyl for your hardwood look, there are numerous possibilities for you as well. The choices can range from light colored planks, like Alpine Elm, to dark colored planks like Iron Wood. You even have options when it comes to warm tones and cool tones.
Vinyl is a wonderful choice because of its low-maintenance, low-cost, and flexibility. If you're replacing your floors, designing your home, or maybe just trying to lessen your home maintenance, it's definitely a good idea to keep vinyl flooring at the top of your list.