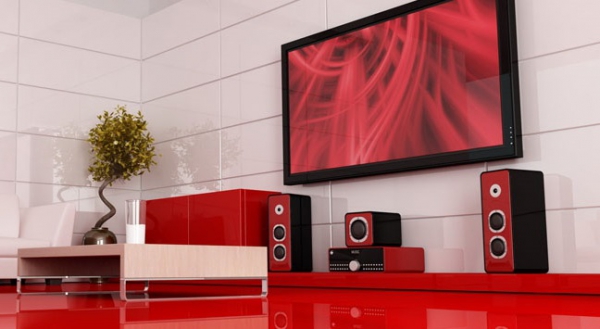 A home is just not a home without a theater system to complete the entertainment. Admit it; it's always been your dream to have a home theater system that would put the movie theater down the street from you to shame. With movie ticket charges getting astronomically high in today's current society, it's really not a bad idea at all to invest in one. Yes, you may have to spend a pretty penny up front for what you want, but the return on investment will serve you effortlessly on those days you really need it. Not only will you be saving on movie ticket charges, but you will also be saving the gas money you would need to get there. Not to mention that you will be able to really impress your date with a more comfortable way to watch the best movies around. Nowadays, movies are being produced in high quality resolution, so you would be doing yourself a disservice if you decided to play it small and not take advantage of having the full experience. However, the perks don't stop there! Your home theater system can also function as your own private ballroom complete with surround sound music. With the right entertainment system, you can create any atmosphere you want! With all the possibilities staring you right in your face, I think it's quite obvious that I'm not going to suggest getting something that won't make a big statement. After all, your house should be the one place that you can escape to paradise to. However, before diving headfirst into purchasing the first shiny home theater system you see, it's important to take into consideration what's needed to ensure a smooth installation.
So here's the setup…
First things first. When it comes to taking things into consideration to prepare for your home theater system, you want to start at the basics. Now it's time to think about what room you want to put it in. The room you choose sets the tone for what kind of system will work best. You want to take note of the flooring, lighting, seating arrangements and storage options that are currently in the room you desire. It's also a good idea to meet with a professional home theater installer in order to get an even better idea of what components you will need for what you're working with. Next, you want to figure out the most important part of the whole system; your video display. This component makes all the difference. You have your choice of choosing from the typical flat screen TV or other options such as a video display that has both video projector and screen capabilities. Other options also include a whole video wall, like those on Project Audio Visual, which would give the ultimate experience.
The next important element is the sound. Your home theater would be nothing without this. Absolutely nothing. There's no point in installing a system if your sound is not configured right. Since we're going for top of the line, your best bet is to get a Preamp/Amp Surround System for more integrated functionality. The last component to hone in on is the speakers. Think of this as the icing on the cake that makes or breaks the whole experience of eating the cake. When looking for the right subwoofer, it's crucial that you test out a few setups first before settling on one. To sum it all up, sticking to one brand from start to finish will yield the best results.
Here is a chart of the top 5 home theater systems for 2014 by Trusted Reviews.
You now have the perfect outline to finding the home theater system that will be perfect for you and your space. Get excited for this installation! You're going to have plenty of entertainment events at your home to brag about for a little while.
; image via www.artderenover.com