We are constantly being bombarded with the idea that clutter is the enemy in interior design. There are numerous examples of this being played out endlessly on lifestyle channels. Why is there such repulsion for our collectables? The quite simple answer is that it can accumulate faster than the dust balls behind it.
Collections get out of hand quickly, and, if not displayed and organized properly, can end up looking like a car boot sale landed in your home. Take these tips to ensure that your clutter looks cool.
Before you start, think about keeping only what you need. Using the word 'need' in the loosest possible sense, of course, there are probably items in your collections that you don't really love. You probably only set out to collect small ceramic owls that you spot in bijou markets on your holidays. Yet somehow you end up with a gaudy glitter owl or a knitted owl cushion. Unless it means something to you, and you can get away with 'losing' some unwanted presents, bin it. Stick to the collection you want to have.
Strip Things Back
To properly achieve the effect a group of objets d'art deserves, it should be the focus of attention in a room. To accomplish this, strip back the room to ensure that your assets aren't competing with anything else.
That doesn't necessarily mean that the room should resemble a modern art gallery with stark white walls and no other furniture. Just temper things down a little, so that the eye is drawn to the set of collectables, rather than bombarded with visual information. If the items are particularly colorful, set them against a white background to show them off. Even a Pez dispenser collection can look like art in this situation.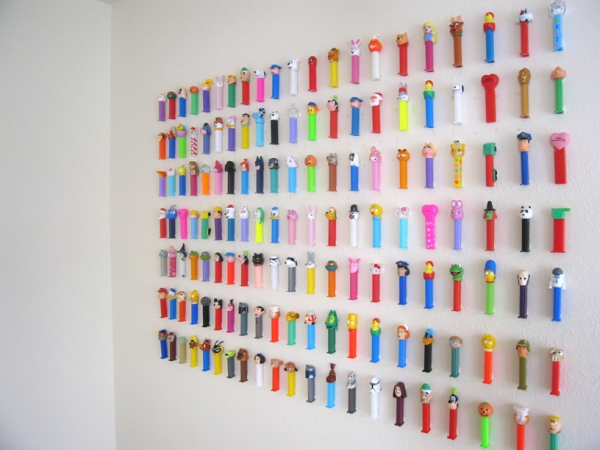 image by Katey Nicosia via Flickr
Paperwork
One of the most unsightly parts of clutter is paperwork. We all have it, so how can we make it look attractive in our homes? There are so many delightful storage solutions for that ever mounting paperwork. One of these is to cover boring lever arch files in floral fabrics or wallpapers to instantly pull together your paperwork in a pleasing way. You can use elaborate painted bookends at the end of each shelf to make those files look even prettier. See more about creating a customized home office here.
Books
One thing that every household has far too many of, and rarely stores properly is the humble book (and its cousin, the magazine). Even with the advent of the e-book, most of us still have many books littering our homes. Put them all in one place and make them look great by creating a dedicated library wall. You can arrange them however you like, but the most aesthetically pleasing is to group like-sized books or colors together. Balance is the key. Leaving 'white space' between groups can look great (as in the photo).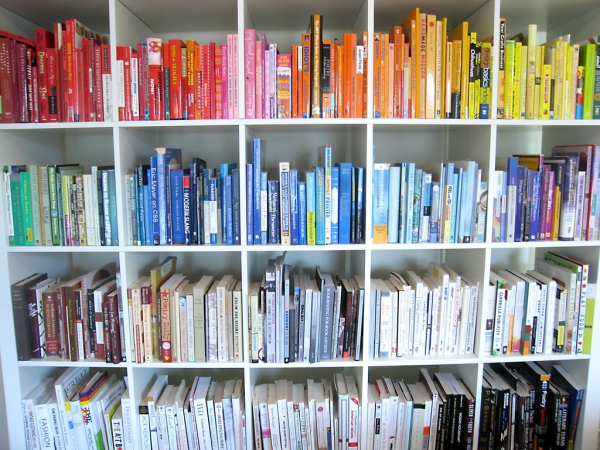 image by Katey Nicosia via Flickr
Group in One Place
Collections are meant to be together. Spread out over an entire house, they simply become rambling clutter. The kind that a Hoarders program presenter would baulk at. The simplest and most effective way of turning clutter into treasure is to display it as such. Whether that is a display cabinet, a shelf or dedicated picture wall, just make sure that they are together.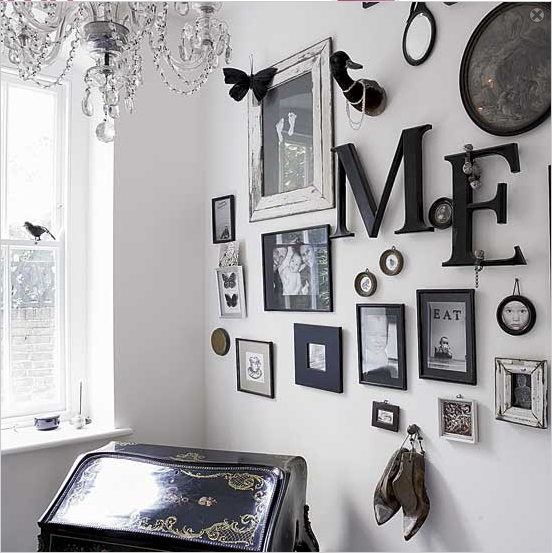 image via Live Laugh Love 
Give It a Home
Make sure that you use a display befitting the objects in question. Don't house a chintzy china collection in a modern, industrial cabinet (unless you really want to show off an eclectic taste).
A carefully selected display cabinet instantly lifts a room. With a bit of elbow grease, you can upcycle an old wood cabinet with a lick of paint – find out how here. With lighting inside it instantly becomes a showcase (literally) for your prized possessions. Where they might have once languished on a dusty shelf, they are now a collected works! If you have a lovely collection of jewellery, display it on a mannequin bust, as per the picture.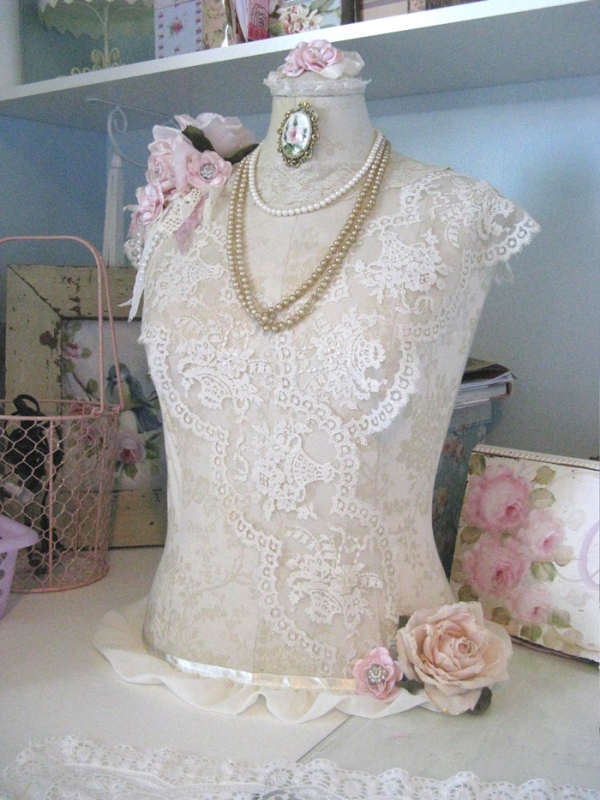 image by kimberlyannryan via Flickr
Feature Wall
This applies to anything that hangs on a wall – be it pictures, items or shelves. For example, one feature wall with a wonderfully curated collection of pictures makes for a less 'cluttered' look. It is a talking point and looks far better than where pictures often end up – unframed or leaning up at the bottom of a wall, waiting for the day they will be hung. Make sure you do your pictures and photos justice by placing them in gorgeous frames. Ornate and painted frames are particularly chic, especially in the same or similar colors.