When used correctly, a chair can accentuate the beauty of your living space by serving as a focal point. People looking to spice up their living rooms have always used either brand new or second hand chairs and other furniture items to become the center of attraction that can add more style to a dull room.
By using the right type of chair or furniture grouping, you can create a look that always sparks conversation, which will immediately catch the eyes as soon as any individual walks in.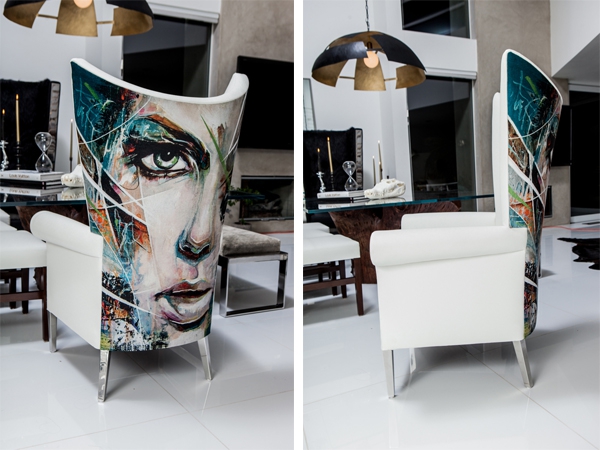 The Queen Chair; Collaboration Danny O'Connor vs Coveted Quarters
How can you achieve this?
Take note of the size of your living space and decide on the size of chair you want to bring in.
Carefully go through designs available to you, making sure you focus on colors and a finish that will fit into the general theme of your space. The chair should be finished nicely on both sides as it won't be able to the function as the focal point of your living space this go-around. In addition, you shouldn't have to hide the back against the wall either.
The chair must take up only the space you intend to use for it without disrupting the aesthetic appeal or pathways of your living room.
Once you have settled for a chair, look for a matching under rug. Setting the chair on a matching rug helps emphasize the presence of the chair within the presence of other decorations in the room.
Seek expert help where necessary.
You can see some great chair ideas on Pinterest.
When arranging your chair in the living space, there are certain things you must keep in mind:
You can further enhance the position of the chair as the centerpiece of the room by making sure it blends with other features in the room; such as the fireplace, your big screen television or a TV stand. When blended in with these, the chair will pop even more!
The chair must be positioned correctly, making candid conversations more comfortable without shouting or inducing neck strains. For big rooms, the best thing to do is to create more than one conversation area. In this way, you can make one chair the centerpiece of a particular conversation area instead of an entire living space.
As alluded to earlier, be mindful of traffic. The chair isn't rightly positioned if it doesn't allow people to walk from one part of the room to the other with ease.
Make sure you don't place the chair too close to the wall. When you place the chair closer to other furniture in the room, it creates an air of intimacy and also makes it easy for people to admire the total finish of the chair. This it is highly recommended to buy one with a beautiful finish on both sides.
With these tips, you can give your living space the lift it needs with a centerpiece chair.