Flush toilet is one of the most ingenious inventions of man. We're happy to use it every single day, not even noticing it …. Until it malfunctions and starts leaking.  And then we panic.
How to fix a constantly running toilet?! The leakage leads to a constant unpleasant noise and a large water waste, so it needs to be fixed. And quickly! Naturally, the first thought would be 'Call the plumber!' Before doing that however, have a look at a few simple things you can do first and stop a running toilet yourself. We've turned to the Plumbing Detectives for professional advice and we are sure that you will find their 'fix a running toilet' tutorial most useful!
To find out what causes the leak and come up with a proper solution on how to fix a running toilet, let's first get you introduced to the structure of the flush tank and how it works.
The unit comprises of a few elements:
a toilet flush lever
a rubber flapper blocking the tank water from running into the bowl
a chain (lift rods) connecting the toilet flush lever with the flapper
a pump which refills the tank after it empties
a float ball which raises and lowers with the water level; it tells the pump when to go and stop
an overflow tube, that controls the water level in the tank.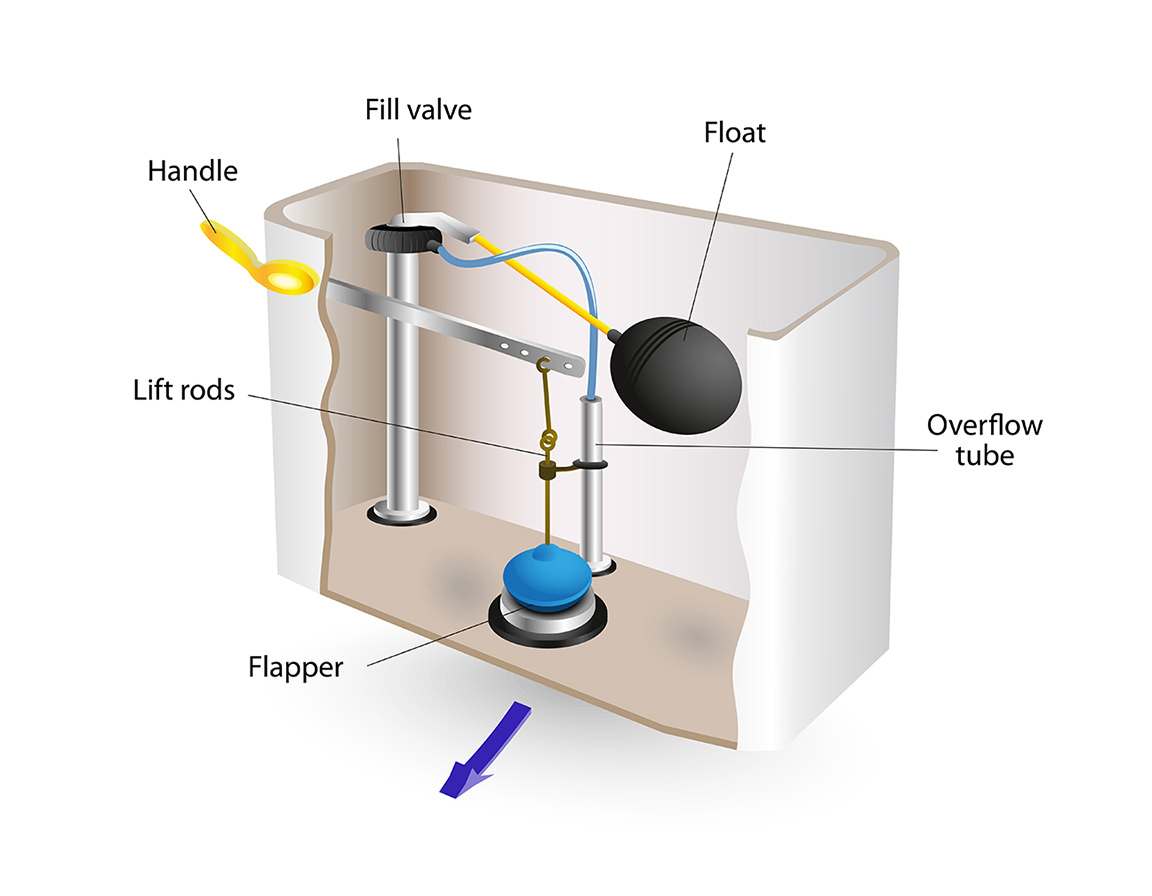 Now…. Toilets work on gravity. When you push down the lever it pulls the chain and lifts up the rubber flapper, allowing water to run out of the tank into the bowl. Once the water in the tank runs out, the flapper closes and allows the tank to fill again. The tank pump starts pumping water from the water supply inlet, and as the water level rises, it makes the float ball rise, too, and it finally closes the intake. The overflow tube controls the level of tank water and prevents it from flowing over the edge of the unit.
Your toilet leakage may be caused by the malfunctioning of any of the above items. To access them for a proper check-up, don't forget to first stop the water supply to the tank. Flush the water to empty the tank. Then lift the lid and place it aside carefully. Time to find and fix the leakage problem!
Common causes and how to fix them