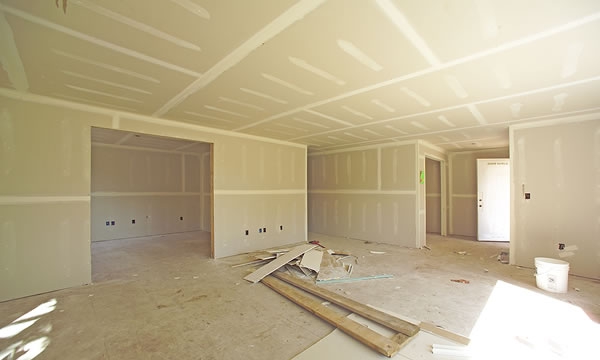 We're going to take a look at dry lining and what it can do for your home. You may be wondering what it actually is, well dry lining is technically the finishing touch on a wall or background surface (so think brickwork, block work or masonry). Some people like the exposed look, but for a finished look you are going to want to dry line the walls. This involves fitting plasterboard, or an alternative like it, to any of those surfaces in lieu of using traditional plaster. This is a much easier process, and requires less expertise to complete.
Avent Interiors explains it pretty well: "With a variety of different plasterboard types, the drywall systems can provide moisture, acoustics and fire protection as required. As an alternative to traditional sand and cement or wet plaster finish, dry lining is a simple and effective technique for lining to brick, block and concrete walls. Dry lining can be taped and jointed or alternatively can be skim coated with a thin coat plaster finish, to provide a surface finish ready for decoration."
Dry lining with timber or metal
When you dry line and fix the plasterboard to timber or metal materials, this is usually referred to as 'tacking' if you are using nails, or 'screwing' if screws are being used. Screws are typically the better option, as they hold weight much better and stay put in their place, especially when used on timber materials.
Consider the environment before dry lining
Always keep in mind where the plasterboard is going to be placed before starting the job. If you are dry lining in a bathroom, choose a board that will be more resistant to moisture. These types of plasterboard will have a wax finishing on them, making them water resistant, or at least with little exposure.
Insulate the dry lining
You can glue insulation to the back of the plasterboard, helping facilitate the temperature of your home at any given time. Do not skip doing this, insulation is very affordable and this is an easy part of the process that will make a grand difference in the long run. You don't want to have to go back and add insulation after the project is done.
Dry lining is a rather easy task to undertake, so if you have a garage or similar structure with exposed surfaces, insulate and line them yourself, it clearly won't require too much out of you!
Text is copyright to ©Adorable Home – interior design and decorating ideas; image via www.awesomedrywall.com