Choosing the right type of boiler for your home can be somewhat of an overwhelming experience for those that are not "In the know". There are a wide variety of type, size and shape of boilers and while installation experts may understand them fully, you, the home owner, may not realize which boiler would be best suited to your home. Finding the right boiler is down to differing factors that need to be taken into account and a certified boiler installation company can be the best place to get advice. You'll need to book a surveyor to come to your home and prepare a quote or if you're in a hurry, you can get a quote online in about a minute. The 4 main types of boilers are listed below with information that could help you decide which one is right for your home and also help your home run more efficiently.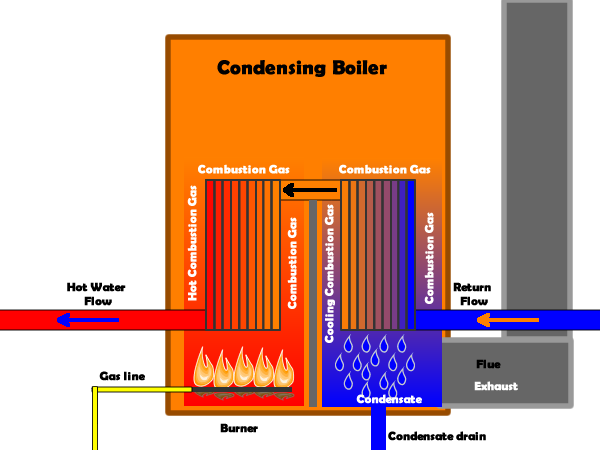 image via www.aciindustries.com
Condensing boiler
Condensing boilers are the most energy efficient of the 4 types we will be discussing and many schemes are available to assist people who want to trade in their old boiler for a new condensing boiler. A modern condensing boiler can help you save money by working at 90% efficiency, which means they are often A rated. Within a condensing boiler there is a heat exchanger that retains most of the heat that is usually lost via the flue so you should start to see a difference on your energy bills quite quickly after installing this type of boiler in your home.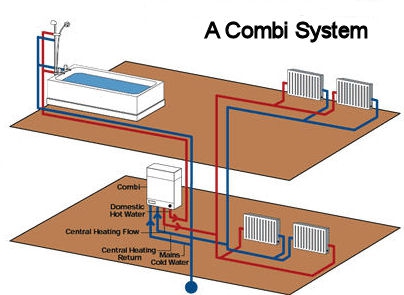 image via gasboilerforums.com
Combination boiler
Combination boiler or combi boilers, as they are often referred to as, are used to provide both heating and hot water for the home but do not require a separate tank for the water to be heated in. This means less valuable space is being taken up by equipment in your home as opposed to older styles of boilers. A large majority of the latest models of combination boilers are also condensing boilers so you can expect to make savings very quickly after recouping the cost of a new boiler.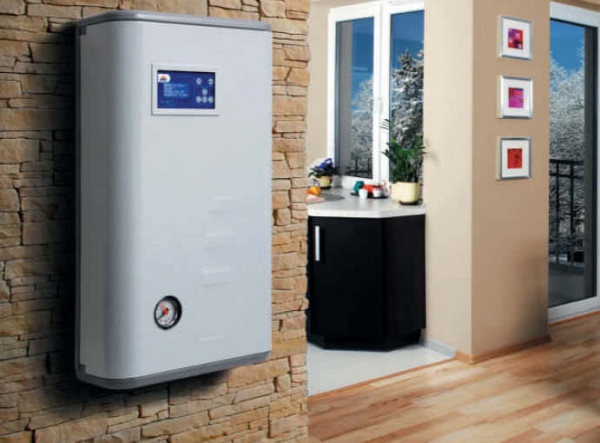 image via www.archiexpo.com
Free standing or wall mounted boiler
Free standing and wall mounted boilers are ideal when space is tight as both of these types are much smaller than traditional boilers. Both of these boilers can be fitted in places such as between kitchen units and inside cupboards as they are thinner and lightweight. Free standing boilers offer a compact solution to heating water and your home but may not be ideal for larger installations.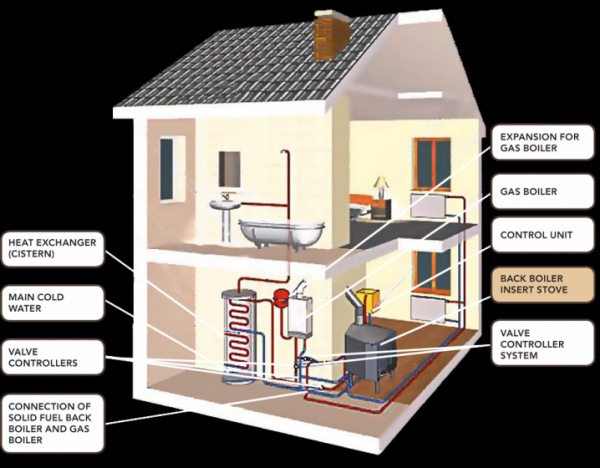 image via www.agathos.ie
Back boiler or integrated boiler
Many older properties have what is known as a back boiler, this is a small, hidden boiler that is connected to or behind a fireplace usually. This type of boiler was once considered normal but since advances in technology and efficiency have become known are now quite old fashioned and in some cases completely obsolete. In many areas regulations now state that back boilers should be replaced with modern, energy efficient boilers as standard; meaning that home owners must change their boilers despite the cost.