Your bedroom is one of the best places for instant refuge after a long day. You rely on it to provide the rest, relaxation and rejuvenation you need on a daily basis. Just like any room, it includes a number of windows that control how much sunlight or moonlight comes in as the days come and go. Another thing that allows your personal oasis to provide you with the best relaxation possible is the type of bedroom blinds you choose. Depending on the décor of your room, you want to pick the best blinds possible. Not only are they enhancing your bedroom, but they are also helping to create the décor flow you're looking for. So it's a great idea to get a thorough look at the kind of blinds that will work best for you.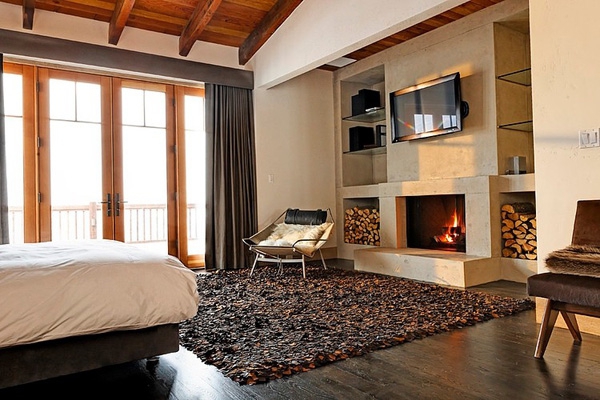 design by D'Apostrophe Design
The first two things that you want to think about is the exact purpose you want your blinds to serve and what kind would help serve that purpose. If you're a super private person, you may find that plantation shutters are right up your alley. If you would like a balanced amount of daylight, then vertical blinds are your best bet. If you feel more like a vampire in the morning, then duo roller blinds or block-out roman blinds will be sure to prevent any obnoxious sun rays from interrupting your dark slumber.
The next order of business is figuring out what color and material you want your bedroom blinds to be. At the top of the high budget tier, wooden blinds are hot commodities, with faux wood blinds helping to keep your budget reasonable and aluminum blinds proving to be a lot more economical. If you're looking for a classic look, going with wood is your best choice but faux wood allows for more color options if you aren't into the traditional look of things. Aluminum blinds are made a little lighter and cover a wider range of options, from neutral colors to vivid ones.
The last thing to consider is if the bedroom blinds you are looking for are actually for your bedroom or your children's bedroom. If you just so happen to be considering your child's bedroom as well, you want to make sure that the blinds you choose are made from a material that's easy to clean and doesn't have too many hazardous cords.
Now that you have thought about all the things that need to be considered before getting your blinds, you are ready for the next step. It's time to install the blinds! If you're a DIY enthusiast you can try to do the job yourself. This useful guide from Just Blinds will definitely help you do the trick. And if you don't feel like taking chances with the installation process, you can always hire a professional.