Time and time again, we see people standing on kitchen chairs and upturned laundry baskets trying to do household jobs that are just a little bit out of reach. Face it, there are some jobs that are easier to do when you have a step ladder around!
In today's post, we're going to take a look at 5 household jobs that you can do with a step ladder. So, next time you plan to hoover up the cobwebs while balancing on the kitchen side – think again. We know of a safer, more stable solution!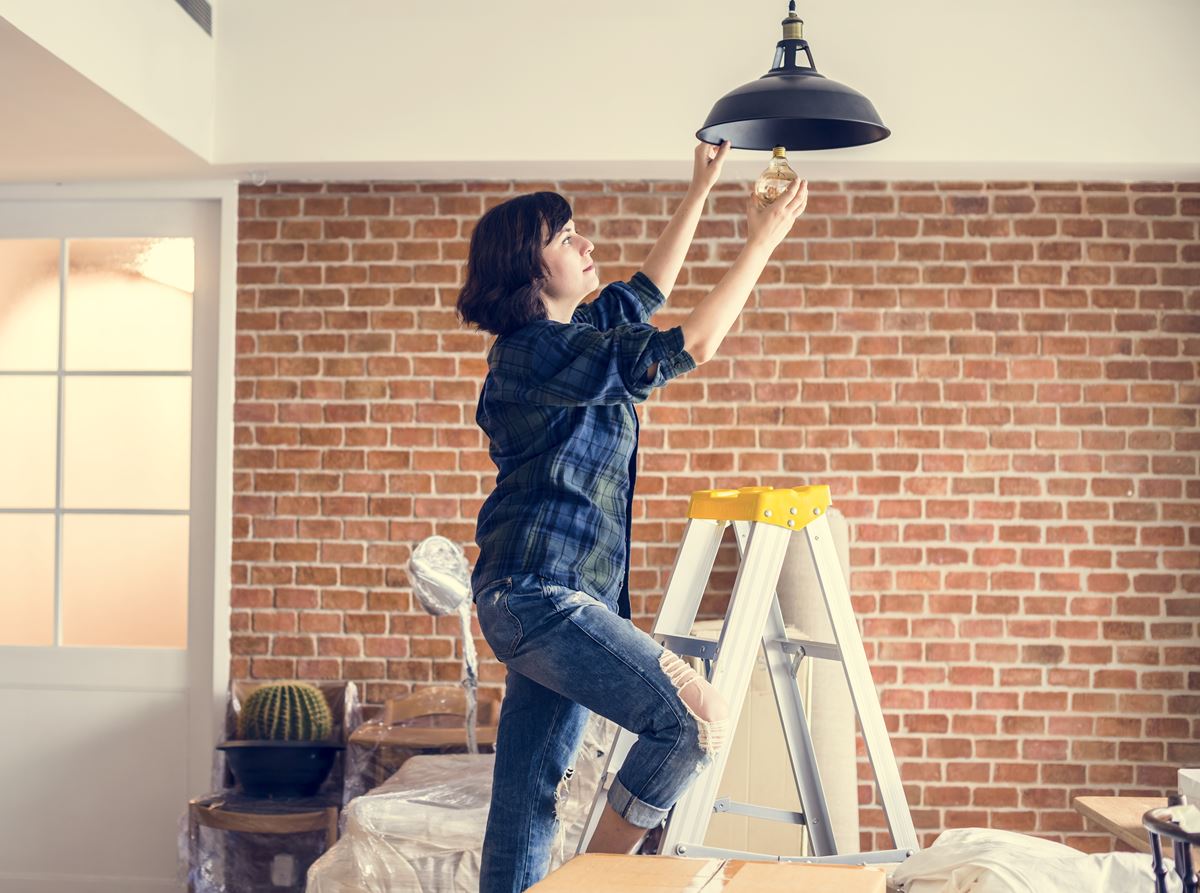 If you've ever tried to paint the interior of a house before, you'll know that it can be a real challenge. Not only do you have to apply the coats of paint evenly and avoid splashing it on the furniture, but you also have to reach the top corners of the room to finish the job.
Safe to say, there are few people in this world who are tall enough to paint the space just below the ceiling. If you're one of them, congratulations! But the rest of us need a little help.
When it comes to choosing the best step ladder for painting, there are a few different options on the market. For interior spaces, we'd highly recommend giving a platform step ladder a try. These step ladders have a large wok surface at the top which means you can easily balance your paint can (or cup of tea) while you work.
You may not realise it, but different types of lights can really change the atmosphere of a room. Nowadays, there are so many options from energy saving bulbs to smart bulbs, so remembering to update them every now and again is a good idea.
We know it's convenient to use your existing furniture to give you the "boost" up to the light socket, but not only is this dangerous because you can wobble and fall, it's also dangerous because you can get a nasty electric shock if something goes wrong.
The solution? A glass fibre step ladder. These step ladders are ideal if you want to work near exposed wires or light sockets. They're non-conductive which means they'll protect you if you (accidentally) forget to turn the light off before you start fiddling with it. So, whether you're installing new spotlights or swapping over to a smart bulb, we'd highly recommend giving a glass fibre step ladder a try.
There's nothing worse than a grubby window to ruin the nice view of your garden. No matter how hard you try to keep windows clean, it's inevitable that they'll need a good scrub and polish at some point.
Step ladders are great for reaching first floor windows that are a little out of reach. Again, platform step ladders are ideal for this task because you can keep your bucket and cleaning equipment safe while you work at height.
For second or third storey homes, we'd recommend using a taller extension ladder to reach those external windows. Sadly, extension ladders won't feature the same helpful platform, but they will provide you with the extra height needed to make all your windows sparkle.
All you green-fingered people will know that step ladders are a great asset when you're working in the garden. There are so many garden jobs that you can do with a step ladder, most of which would be almost impossible without one! Here are a few examples of garden jobs that are made instantly easier with a step ladder:
Cleaning gutters
Trimming overgrown trees and hedges
Watering hanging baskets
Removing moss and ivy
Painting your shed
Adding personal touches like photos and bookshelves, can really turn your house into a home. If you've ever tried to hang a picture or install a shelf before, you'll know how important it is that you get things level and straight. The last thing you want is a wonky bookshelf with things rolling off it all the time!
Standing on your tip toes is guaranteed to give you an imperfect finish. However, using a step ladder will give you adequate height and support to keep things steady while you fit them. Aluminium step ladders are a great choice for household jobs like this because they're so lightweight and easy to transport from one room to another.
Hopefully this article inspires you to grab a step ladder and get those jobs done that you've been putting off for so long. We're sure you'll find a step ladder a welcome addition to your home.