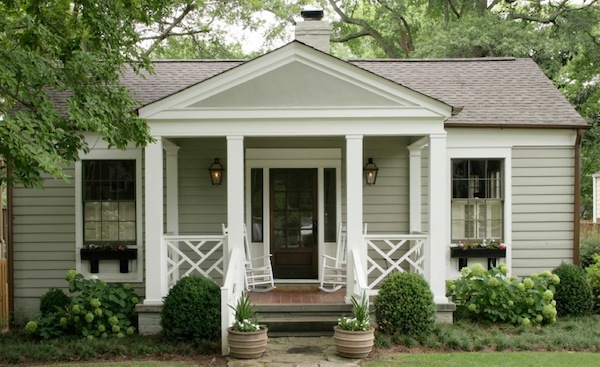 image via Homedit
For most people, a home is more than a place to live; it's a part of the very lives of the homeowners and is, in many ways, an extension of themselves. It's also an investment.
Most homes are purchased with the intention of not only keeping them in great condition but also improving them to enhance comfort and property value. Installing a front portico can help you accomplish the latter by increasing curb appeal and even lowering energy costs. But before choosing the materials and design of your front portico, it's important to understand the different options available and how they will complement your home's structure.
There are plenty of ways to research porticos and get some inspiration. For instance, taking a trip around the neighborhood, browsing websites and perusing home-improvement catalogues are all great ways to gather ideas. It also pays to speak directly with a manufacturer or even a contractor to get a professional perspective.
If a front portico is on your home-renovation itinerary, consider these three trending designs:
1. Gable Roofs
Gable roofs are certainly among the most popular and versatile portico styles. They fit well on a range of home designs.
The style of a gable roof is simple yet practical—nothing more than a triangle shape, usually more wide than tall. Despite its basic design, a gable roof can create a clean and inviting look that appears very natural and isn't distracting.
Gable roofs also can increase the longevity of a home's infrastructure as they encourage water runoff. The choice of material can influence their strength. Although asphalt shingles are popular, metal designs may be even more advantageous. Metal is lighter and can last three times as long as asphalt. It also can enhance the home's energy-efficiency by reflecting sunlight, which can save the homeowner a fortune in power bills.
2. Hip Roofs
Though not as versatile as gable roofs, hip roofs are excellent options for bungalows, ranch-style homes and cottages. They have a gentle slope and a pyramid-like shape.
Hip roofs extend past the walls of the home and are particularly popular on front porches. Fitting the entire home with a hip roof, however, creates a uniformed look that, like gable roofs, can direct rainwater and help preserve the building.
This style doesn't lend well to hotter climates; hip roofs don't have the same energy-efficiency benefits as other options. This is because the gradual slope increases the likelihood that heat will become trapped inside the portico. But in windy environments, they are particularly effective due to their aerodynamic design.
3. Shed-Style Porch Roofs
Shed-style porch roofs feature a single, sloping surface. They are excellent for homes with narrow porches. When installed above wide porches, the overall aesthetics of the house begin to look strange as the front seems to be too tall for the rest of the surface area.
The structure of shed-style porch roofs is relatively simple. They typically cover a small area, and they're particularly effective for blocking sunlight and reducing temperatures both inside the home and within the area they canopy.
Making a Final Decision on a Portico Roof
When choosing a portico design, just like most home remodeling projects, there are two main factors to consider: aesthetics and functionality. While the look of a hip roof may be perfect for your home, the energy-saving benefits of gable roofs and shed-style roofs should certainly play into your decision.
Also, be sure to ask yourself these questions:
Do I plan on selling my home soon?
How will the climate affect my decision?
What style would complement my home's structure?
What style would complement the surrounding homes?
And remember, it's always smart to consult a professional when planning a remodel. Consider these tips, and your new portico just might become the talk of the neighborhood.
Author: Paul Kazlov is a "green" home remodeling enthusiast and an industry pioneer for innovation in home renovation. Paul writes for the Global Home Improvement blog and strives to educate people about lifetime remodeling solutions such as metal roofing. Follow him on Twitter @PaulKazlov.