Once humble wood has become a symbol of opulence in interior design. Watch any HGTV program and you will inevitably see homeowners (or future homeowners) wandering layouts wondering aloud, "Are these real wood floors?"
Questioning whether the wood is real or faux comes from a place in the past where engineered wood flooring just did not look or feel the same. Modern technology and developments in engineering have made it possible for engineered wood floors to be almost indiscernible from the "real thing."
This type of wood can be used in any setting natural wood flooring can and is better suited for certain applications. Using wood and engineered patterned wood in your home can go beyond simply slapping some slats down on the floor! Here are 12 ideas to make wood flooring (real or engineered) the star in other ways!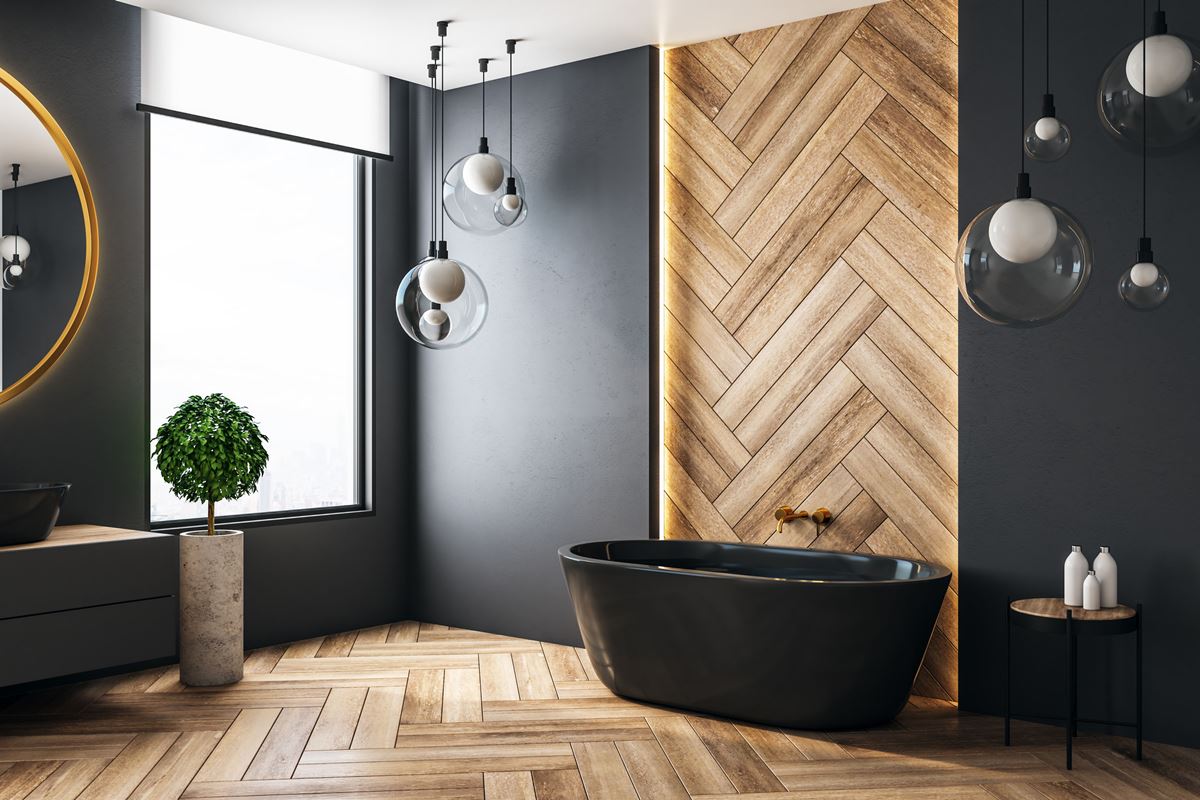 Herringbone patterns have taken over the interior design world like no other trend before it. It is used on all types of flooring, wall treatments, and tiling to create fun shapes and texture in an otherwise linear space.
Herringbone can be part of a greater pattern including creating diamond inlays in your wood flooring. Utilizing wood flooring to create shapes and designs on your floor will certainly bring attention to the product you spent so much time selecting!
This piece is not all about putting the flooring down as a floor! Use engineered or natural wood pieces to create a herringbone-patterned headboard for a functional statement piece in your master or guest room.
Use multiple hues of naturally stained wood to create drama and bring a rustic yet refined look to the space. Consider carrying the idea through with some unique wood artwork. Tying a room together with touches of the same material makes the space feel well designed.
Most kitchens are featuring some sort of tilework or use other materials to make a statement but don't make the mistake of forgetting about the floor! Wood floors were once forbidden from kitchen design with linoleum or tile stealing the show in the name of easy cleaning and water resistance.
Wood floors are now kitchen ready – either because of proper sealing or engineered woods being waterproof. Use wood floors in the kitchen to balance the often dramatic tile backsplash. Create a design, like the popular herringbone, in the flooring to draw the eyes around the entire beautiful kitchen.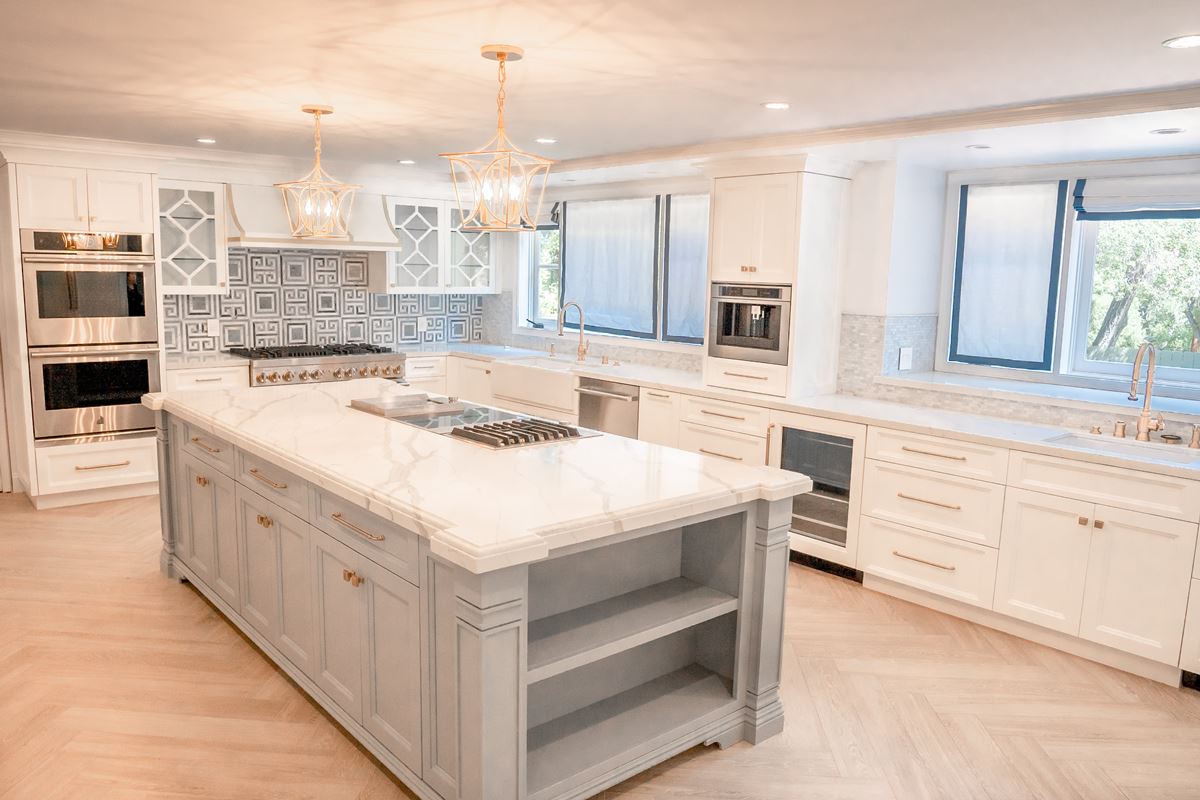 Beautiful old mansions often featured an inlaid design in foyers or entryways to create a prestigious first impression for guests. Unfortunately, inlays can be expensive and complicated for any kind of DIY renovation.
Try stenciling and incorporating color with stain to create the appearance of an inlay without the exorbitant costs. You can do this on any wood flooring that is receptive to sanding and staining.
#5 Wood Scraps for an Introduction Piece
Not ready to install new floors or refinish old flooring? No problem! You can still incorporate wood into a room without these major projects.
Try creating or purchasing an end table or lamp table with a herringbone wood top. You can build your own with wood scraps or a few used wood pallets. These small touches are a great way to introduce the textures and beauty of wood without the stress of a full renovation.
#6 Take Things Up a Notch
Take the wood from the floor to the ceiling with this idea. Look up! What do you see? Likely a blank canvas if your home is like most.
Use wood or engineered wood to create a breathtaking piece of ceiling architecture without the cost of major renovations. Planks of wood on the ceiling are perfect for any cozy space needing some personality.
#7 Combine Stain and Patterns
Engineered woods allow for a great color spectrum and, in turn, more versatile design capabilities. You can combine stain with a pattern to recreate the versatility of engineered wood while using the real thing.
Consider whitewashing to recreate the depth of color and shading offered by other types of flooring. Combine stains and patterns to take your wood floor to the next level.
Do not be afraid when it comes to patterned wood flooring! Boldness is key to a finished product that makes a statement.
Consider a checker pattern for large, open spaces of wood flooring. This pattern is perfect for older wood floors that might be difficult to refinish with one, solid stain. A checker pattern will disguise any problem areas while creating a visually appealing design.
Herringbone is wildly popular and its visual appeal is why. The only thing more show-stopping than herringbone is the same pattern featuring multiple colors.
A coffee table with a herringbone pattern that features wood pieces with different stains, colors, or aging is sure to be a conversation piece. It is also a great way to introduce a rustic wood look without the farmhouse chic vibe.
#10 Contrast is Your Friend
Like we mentioned earlier about kitchens, wood floors have also been oft-banned from bathrooms. How unfortunate!
Engineered wood floors and properly sealed natural wood flooring is perfectly safe to use in bathrooms. A herringbone wood floor design flowing up to a subway tiled bathroom is sure to wow guests and provide a spa-like feel for you to enjoy!
If you are just now getting in on the barn door craze, you are behind the trend. There is still hope for you to get ahead of the game!
Adding texture to a barn door is as simple as using another en vogue pattern – herringbone. Using patterned wood creates far more drama than simply painting your barn door and can really be a statement piece.
We have talked a lot about herringbone because it is truly all the rage right now. If you like to be outside of the trend while still keeping things classy, try creating a different patterned wood floor.
Chevron is another pattern seen in wood flooring that will create texture and enhanced design while taking your wood floors to the next level.
The point of all these ideas for patterned wood in your home is to be bold! Wood is not limited to straight planks, laid perfectly on the floor. Try crazy designs, different colors, and new surfaces to create a rustic feel while enhancing your home's interior!