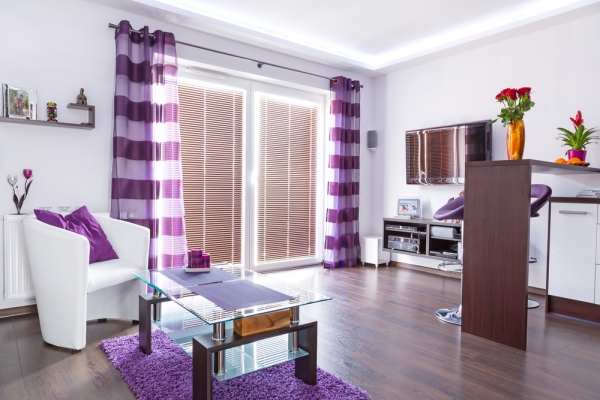 When it comes to dressing our windows, it can be far too easy to stick to boring, regular options like plain curtains or blinds. However, with a little know-how, you can soon choose something that will really make an impact on the whole room.
We've taken a look at 10 of our favorite ideas; some of which you can buy and some of which you can DIY; to get you inspired as to what is out there.
1. Interior shutters
Window shutters provide that real European, fresh feel that we absolutely love. Use them on the interior of your windows for a surprising, clean charm. There are loads available on the Etsy.
2. Statement curtains
If nothing works for you like curtains do, there's a simple solution to making them look more attractive – choose more interesting ones! Shop around to look for ones in a lovely, statement pattern.
3. Lace glass treatment
When looking for DIY treatments, there's no doubt this one was our favourite. A crafter achieved a lace effect on her window to aid privacy and add interest to the window. You can see how it was done and try it for yourself here.
4. Hanging mason jars
Mason jars are everywhere at the moment as they have a really pretty, antique-y look to them. Use them on your windows by putting things in them like flowers or stones and suspend them from a curtain rod above your window. Experiment with different heights, colors and fillings.
5. Hobbled shade
We had to put a shade in this list, and as far as shades go, we found this one the most interesting and attractive. A hobbled roman shade has a layered, textured appeal which gives a really homely effect on any room.
6. Window dormer
Perfect for windows in small alcoves or in reading nooks, a dormer can be a lovely, really unusual addition to a window. We love this black and white stripy window dormer as it's nice and clean which gives it a modern element.
7. Window shelves
Install some shelves to the panes of your window and in the middle to create a beautiful, light place to store some of your things. Glass items will look great and will give off a really pretty light, too.
8. Wooden valances
A great one to DIY if you're feeling particularly thrifty is a rustic, wooden valance. We love this one as it's rustic but also cheery thanks to the sunny message that's been painted on.
9. Bamboo shades and sheer curtains
Our new favorite combo since salt and vinegar is using bamboo shades with sheer curtains which is the ultimate way to keep a room light but without making it too warm or open to outdoor viewing. They can be surprisingly cheap, too!
10. Curved curtain rod
Instead of using a straight curtain rod above your window, why not experiment by using a curved one to give your windows a bay-window feel? This is great if you've always wanted a bay window but there isn't one on the cards any time soon. It's perfect for a window nook, too.