How much of your life and dreams could you fit into mere 35.7 square meters? The team at The Goort show us how it's really done, magically sliding an array of ideas and configurations into this minimalist apartment in Mariupol, Ukraine.
Housed in a re-purposed old printing press, the design explores every cubic inch of its volume to create a fascinating collation of small apartment ideas.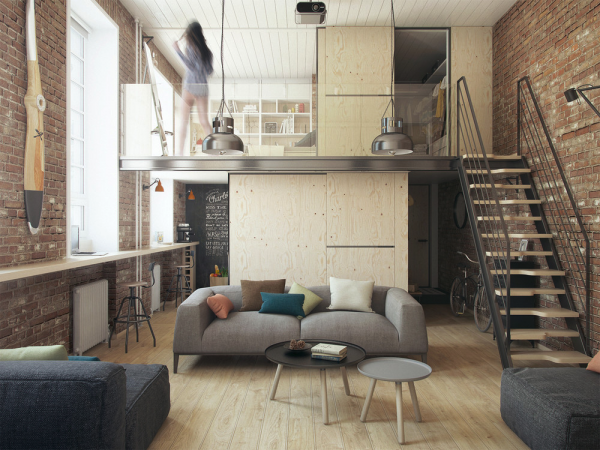 Home to a young and socially alive couple, this tiny apartment is rendered in bold and open strokes and ambitions. The generous ceiling height is craftily employed when carving out individual spaces and volumes within the tight footprint, adopting a lofted configuration to minimize the stress on it. The social core and utilities thus occupy the lower level, while an open yet utterly private bedroom with associated storage is located on the loft above.
The double height social core is a central space for meeting, engagement and dialogue; extremely flexible in its conception, it adapts to an array of activities and requirements thanks to the handy built in storage that conceals a range of furnishing options. Doubling up as a dining area, open dance floor and a delightful home theater, the space invigorates both social and private evenings.
Crisp and light touches bring a range of elements and finishes to this inventive design, tying up the plethora of small apartment ideas on offer into a seamless and sinuous living experience.