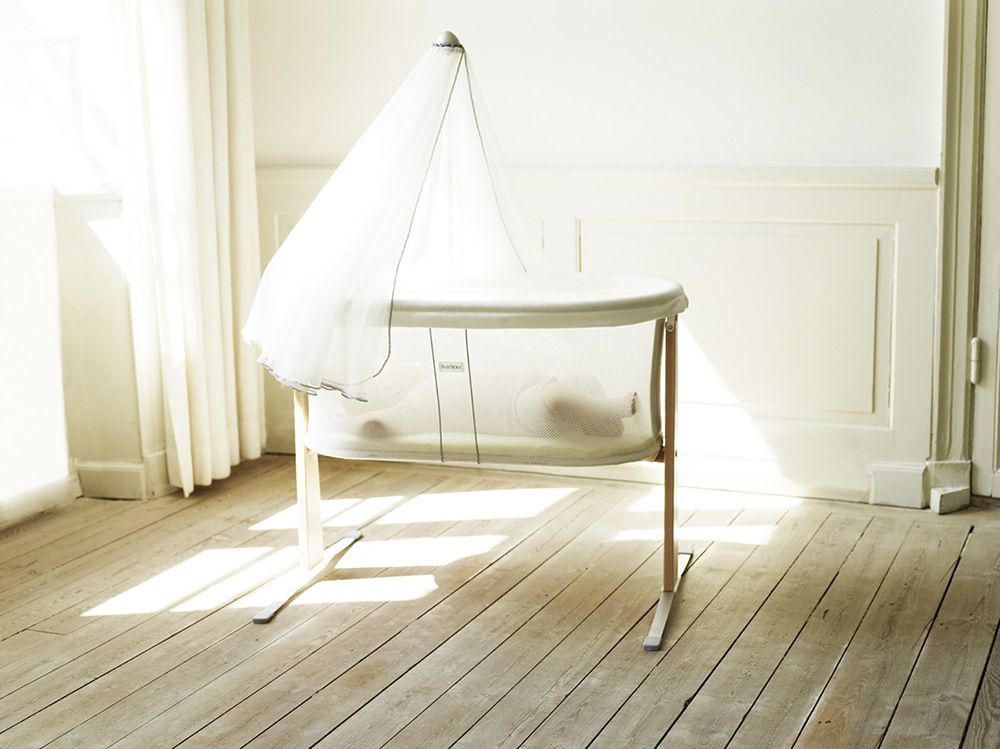 A bassinet that is lightly designed, secure, and lightweight would probably fulfill the wish-lists of parents across the world. The BabyBjörn baby cradle fits all these requirements, and adds a couple of extra features for safety and portability.
Constructed entirely of fabric, this baby cradle, is twenty six inches high, twenty three inches wide, and thirty one inches long.
The white transparent mesh gives parents full view of their child at every angle. It also provides generous airflow to and from the bassinet.
The natural wood legs are aesthetically pleasing and sturdy. They are slimmer at the top, and get wider, moving towards the bottom. Two silver extensions fan out from each leg, creating two parallel lines, while gray grips provide stability, and protect the floors from scratching and damage.
The white fabric, wood legs, and gray piping look really good together, making this a lovely combination in any home.
A matching white canopy circles the bassinet, shielding the little one. The sheer fabric flows down around the baby cradle, leaving an opening in the front. The gray piping outlining the fabric is simple, and adds a nice touch. The spring suspension system allows for a gentle rocking, that is calming and settling, and also ensures that the cradle doesn't get stuck at a dangerous angle.
Weighing thirteen pounds, this baby cradle is perfect for small spaces, and for carrying from room to room. This can be brought into the kitchen while dinner is being made, into the TV room with the rest of the family, or into the master bedroom on sleepless nights.
BabyBjörn thought of everything when it comes to this baby cradle. They accounted for possible dangers, kept safety in mind, maintained portability, all while keeping the design minimalist and focused.
*This page contains affiliate links