Perched atop the Morumbi hills in São Paulo, Brazil, this gorgeous two story residence, completed in 2012, offers 11,119 square feet of luxury and indulgence. Designer Monica Drucker adopts a sensitive approach that responds to the environs and creates free and uncluttered living between them.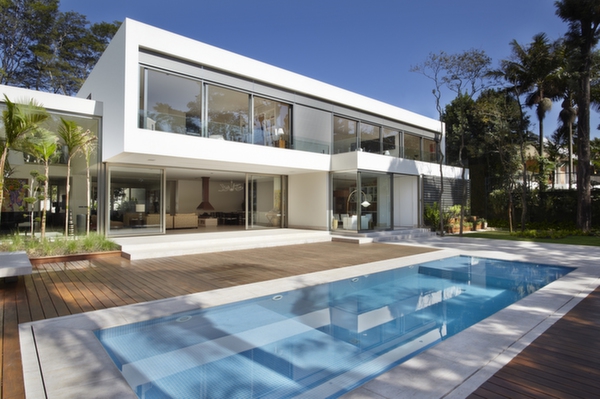 Wrapping itself around the trees on site, the house is utterly modern in its construction and language. The transparent volumes are clad in uninterrupted glazing and therefore borrow much from its surrounding in terms of light and views. Sandwiched between horizontal planes, these volumes are washed in pale white that rests lightly on the clear wooden flooring. Any undue heat gain from the extensive glazing is balanced out by a series of design measures such as thermal acoustic tiles on the roof, blinds for the windows and ample natural shading.
The interiors of this two story residence are arranged into consolidated functional cores defined by furniture and furnishings. These introduce a rich mix of earthy colors and subtle textures to create individual identities within the overall volume. Ambient lighting is gentle with accents created through artful lamps and features. The outdoors is green and generous and offers an inviting pool with sundeck and dining.
The design embodies a highly refined approach to contemporary living. Through each stroke this two story residence makes grand gestures in style and space, albeit in a modernist scale and temperament.