Never a dull moment, Mewstone II by Swell Homes is an interesting exploration of material and textural contrasts and conflicts. Bold, dynamic and intriguing, this reverse brick veneer construction creates aesthetic statements through a clever interplay of pattern and scale, weaving these through the site to create an unbroken spatial experience. This private residence – located in South Fremantle, Western Australia- anchors in the builder's eco-friendly philosophy while offering new expressions of architecture at play.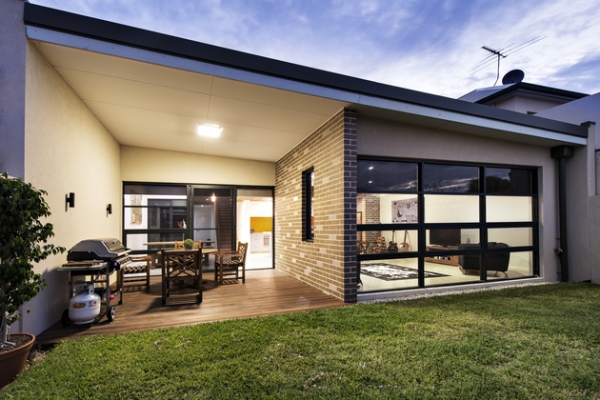 Contemporary simplicity meets retro chic in this design, with each element is afforded its own dialogue, scale and volume. The exteriors of the building are carefully composed and stand in silent repose, offering but a slight glimpse of the dynamics at work within. Inside, a medley of textures and treatments meld into an enthusiastic spatial chorus. Polished concrete floors, wooden paneling, subtly textures carpets and bold splashes of orange form the dominant canvases, populated by relatively composed and contained furniture and furnishings. Set against the strangely musical rhythms of the brick veneer walls, these seeming disparate elements come together in a vivacious cocktail of influence and style.
The spaces are generously laid out, balancing the busy aesthetic rhythms through a well-lit, well ventilated ambiance. Organized over two floors, the social core is housed on the ground level while bedrooms and a private family room are located upstairs.