Located in the neighborhood of Savyon near Tel Aviv, Israel, the Party House is a residential project brimming with entertainment and possibilities. Designed by local architects Pitsou Kedem, this T-shaped building evolved out of the client's desire to create high end spaces for both living and socializing. Adapting a modernist palette to the character of the vernacular, this design enthralls with its delicate lightness, distinct vocabulary and deft overlay of functional variants.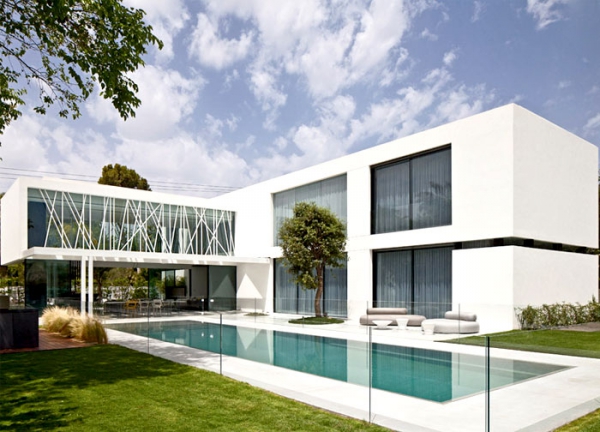 The Party House is articulated as two distinct cuboid volumes – a larger volume organized over two levels and containing the living spaces for the family, and a smaller double heighted volume for entertaining and enjoyment. The entertaining core is located perpendicular to the primary axis of the house, and is laid out as a transparent, open planned space that weaves in a series of indoor and outdoor spaces, elements and functions into a rich and dynamic experience. Glass walls on either side can be pulled back for larger gatherings and greater flexibility, connecting the tree lined courtyard and pool-side patio on either side with the luxurious spaces indoors.
The aesthetics and interiors anchor in a minimalist panel, with colors and textures introduced with refined restraint and elegance. The contained color palette allows for a free exploration of form and element without crowding or weighing down the scheme, with the occasional burst of color offering visual respite. The resulting spaces are smart and sophisticated, albeit with a touch of play, inviting original ideas and dialogue.