Sitting on a narrow site, overwhelmed by the adjoining buildings, House Bronte turns to the sea and natural elements before it for design inspiration and spatial respite. Orienting itself entirely to the sea face on its eastern front, this panoramic house in Sydney, Australia, explodes within the established constraints to create fluid lines, volumes and movement. Architects Rolf Ockert Design dwell in an architecture of warmth and transparency, drawing out a home that embraces both – the visitor and the world around it at large.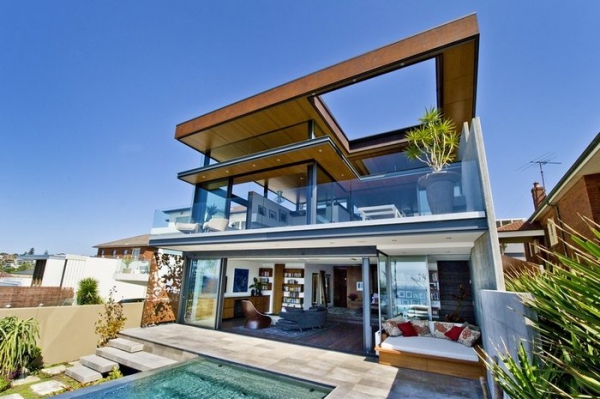 The spaces are drawn between two parallel concrete walls that segregate this panoramic house from the intrusion and bustle of its neighbors, punctuated only by narrow slit windows for occasional relief. With a strong linearity established, the interiors are carved out as a series of generous, open and interlocking volumes that eagerly initiate a direct dialogue with the seafront. Extensive glazing and a series of architectural features such as louvres, sliding doors and skylights, supported by the geometry of the building, introduce abundant natural light and ventilation into the heart of this home, weaving it intimately into its climatic and physical context.
The diaphanous vocabulary of the external elements is anchored by the warmth and organic tones of the interiors, laid out in charming and relaxing compositions that focus on taking in the majesty and magnificence of the Pacific. Contemporary art and elements stir up the space, adding a fresh twist to this utterly modernist affair.