Crisp, clean lines and melodic spatial arrangements bounce beautifully off mature brick features and textures in the 123 House – an 1890s row house renovated after it was gutted by hurricane Sandy. Located in the Red Hook district of Brooklyn, New York, the house was updated by Gradient Design Studio, with principal designer Ben Krone owning and residing in it.
Executed with an eye of innovation and a hands-on approach to fabrication and solution, it was completed on a shoestring budget centered in a design of impeccable style and substance.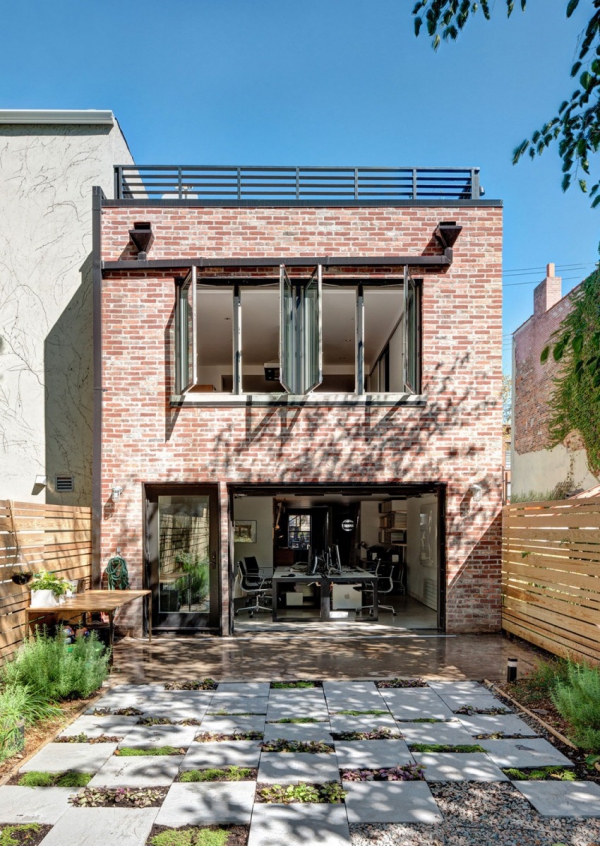 Using natural, reclaimed and readily-available materials (including original brick features) in a contemporary fashion, the design creates current statements without losing connection with its physical and historical context.
The project scope included constructing new foundations, adding a new two-story addition at the rear and remodeling the interiors. Drawing out open spaces that allow natural light to permeate across its footprint, the new house is built in a spirit of modernist simplicity and transparency. The fluid movements between space and function lend versatility to the design that offers ample scope for personalization.
Brick features bring a time-tested quality to the design, vibing grandly with exposed concrete and woodwork. A curated composition of layout, element and furnishing, the interiors are richly realized and deftly articulated.
From foundation to feature, intention to impression, this project stands as a testament to human endeavor and creativity. Layered in time and experience, it presents an architectural vocabulary that speaks volumes through the tiniest of details.