Set amid idyllic landscapes, this private residence offers a warm and stylish sanctuary amid extreme weather and terrain. Designed by New York based D'Apostrophe Design in 2009, this modern winter retreat in Montana has all the fixings that make for a lovely mountain home. Perfect for entertaining guests on holiday, this log house offers grand statements amid a rustic affair.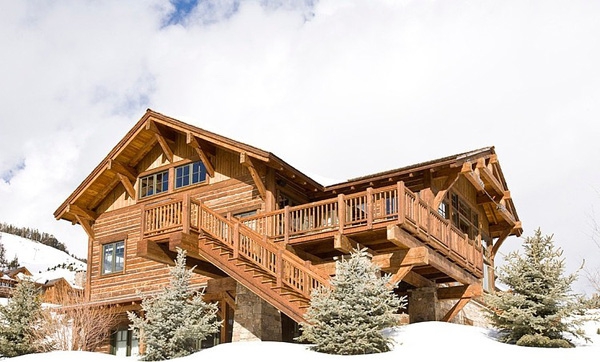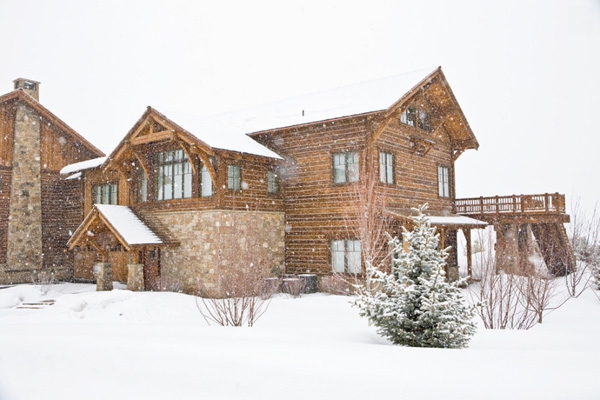 The plush interiors of this design are a unique synergy of traditional materials and modern sensibilities. Drawn out to exaggerated scales and in open, generous spaces, these materials take on a new life-setting stage to a contemporary living experience.
Wooden trusses and hardwood flooring come together to create a rustic, warm and voluminous skeleton that is washed with pleasant, serene white walls and surfaces. Full height glazing further accentuates the openness of the space, bringing in a generous dose of outdoor splendor and fiesta. The interiors of this modern winter retreat are therefore light and relaxed with clear contemporary vibes.
The decor is smartly furnished with a careful selection of materials and profiles evocative of the local vernacular. Further, stylized accents are provided by a unique collection of contemporary artwork that punctures wall surfaces and space with reflective pauses that exhilarate and inspire. Textured area rugs not only soften the palette and experience, but also create warm, cozy functional cores within the extensive overall volume.
A reinterpretation of the familiar in new, creative strokes, this modern winter retreat engages in a lively architectural dialogue – inviting and impressing in every breath and nook.