Drenched in breath-taking views of the Pacific, this 3,400 square foot jewel of a home stands perched atop Laguna Beach, California. Carved into a rocky outcrop, this luxurious clifftop house hovers above a sea cave with the beach stretching out in panoramic proportions 60' below. Architect Mark Abel and interior designer Myca Loar collaborate to create a seamless habitat for contemporary living, creating a series of floating decks that offer comfort, repose and inspiration.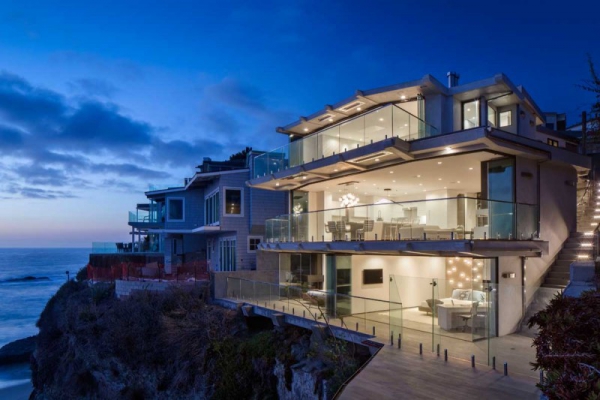 Spread over three floors, this steel frame home houses four bedrooms and six bathrooms as well as extensive social and living spaces, a media room and a glass elevator. The spaces are light and open in their design, oriented towards the spectacular views outside that entice and stimulate. Frameless glass door systems offer seamless views that extend across the horizon, creating a dynamic spatial experience – indoors and outdoors. State of the art smart house technology controls the window blinds, heating, lighting, security cameras, music and irrigation from a smart phone, making life a lot simpler and indulgent in this luxurious clifftop house.
The interiors are lush and tastefully appointed, rendered in a muted palette of white, greys and brown. Natural textures and intricate patterns overlay this serene simplicity with a playful contrast of elements, furnishings and finish, lending originality and character to the scheme.
The property is currently on the market, priced at a cool 12.5 million U.S. dollars.