The Aptos Retreat is a beautiful 2,800 square foot residence to a family of eight, located on a 20 acre site in the Santa Cruz Mountains, California a few miles inland from the Pacific shoreline. Designed by CCS Architecture, this contemporary rustic house offers a template for grand living in a grounded architectural vocabulary. Along with a 1,600 square foot barn house, it arranges an elaborate lifestyle and functional program amid picturesque surroundings – nestled among majestic Redwoods and overlooking the distant ocean.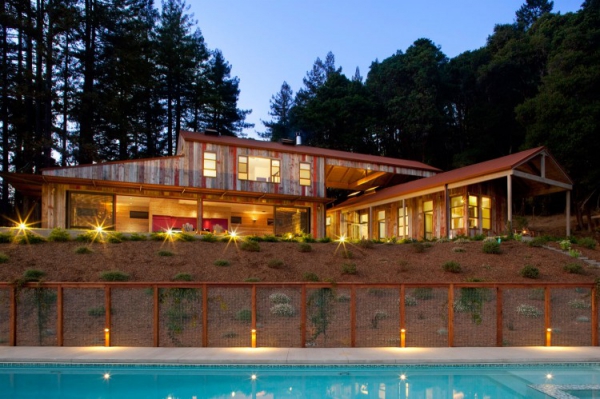 The house is envisaged as two interlocking volumes, individually dedicated to 'living' and 'sleeping'. The 'living' building – the dominant of the two – contains the social core i.e. living, kitchen and dining areas, as well as the master suite. The smaller 'sleeping' unit contains two bedrooms, a shared bathhouse and a private yard. The volumes sandwich outdoor spill over spaces between them, shading and articulating these into the overall experience.
The barn house is developed as the property clubhouse with an array of activities, luxuries and entertainments on offer. In addition to these built volumes, there is also a swimming pool, outdoor archery range, sauna, fire-pit and two tent cabins that serve as guest houses.
Reclaimed barn wood and Corten rusted steel roofing articulate the exteriors of this contemporary rustic house. Its interiors are drawn in warm opulence, transcending from rustic overtones outdoors to cozy, tasteful invitations inside. These are crafted in a palette of concrete, wood, stone and steel, finding individual expression amid an overlay of textures and patterns.