Floating high above the Bangkok skyline, this glorious single family residence, by Architects Ayutt and Associates Design, is spread over three well-appointed floors of a towering skyscraper – the fourth tallest in Thailand. Merging spatial identities of the local vernacular with contemporary lifestyle, design sensibilities and ambitions, this amazing penthouse offers 700 square meters of luxurious living that takes root in both-modernity and tradition.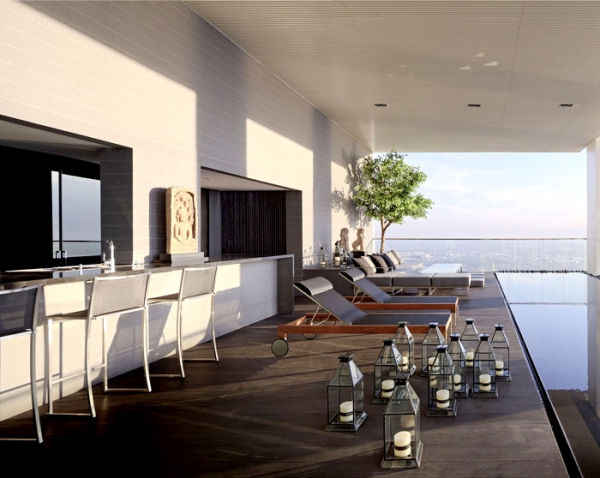 Located on the 53rd to the 55th floor of the skyscraper, this amazing penthouse is designed in generous strokes, amplifying the most typical of spaces to taken on new life, scale and meaning. The private spaces for the family are set out on the 54th floor, sandwiched between two elaborate social zones on the floors above and below it. The house raises the vernacular to new heights, reinterpreting traditional typologies such as garden, courtyards and terraces within the site footprint and its architectural possibilities.
The interiors are plush and oriented towards the panoramic vistas that bathe this triplex. Organized into fluid assemblies within a largely open planned layout, the design exploits the generous footprint and volumes to create big impressions. Complemented by the owner's extensive collection of artwork, the house is summarized by the elemental signatures spread across it. Outdoor and semi-open indulgences add the final touch, making this three storied apartment a paradisaical address in the clouds.